Trending:
How to bring hanging flowers in a basket to life: quick ways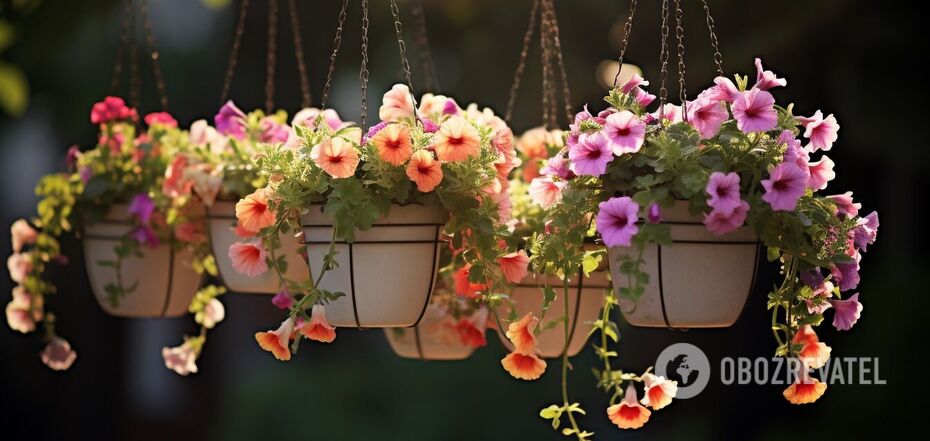 How to revitalize hanging flowers in a basket
Homeowners often prefer hanging flowers in baskets to decorate their yard or balcony. However, due to improper care, the plants can quickly wilt or get sick.
This is also affected by changes in temperature, weather, and soil depletion. OBOZREVATEL has collected tips to help you cope with this.
Summer heat, the rainy season, irregular watering and fertilizing - all this negatively affects the growth and flowering of plants. If you see that the flowers have begun to wilt and lose their color, you need to save them immediately.
Most of the plants that are planted in hanging baskets are hardy and unpretentious in cultivation, and this makes it much easier to care for them.
Dry flowers
If you forgot to water the plant and it has wilted badly, you can still try to save it. Remove the basket from a sunny spot so that the flowers can recover. Water the soil once a day for a long time until you see that the plant begins to revive. But if the temperature is high outside, it is better to water the plant in the morning and evening.
The basket is too small
Most plants are sold immediately in hanging baskets, which greatly simplifies the task for owners. But there is a high probability that the roots will fill all the available space in the container and after watering, the water will not flow out and this can lead to rotting of the flowers.
If you notice that the basket is small and the plant has already grown, you should transplant it into a larger container with new soil so that the roots have room to grow. Before planting, carefully remove the plant from the basket and soak its roots with water. Fill the new container with soil and gently stir the plant in.
Earlier, OBOZREVATEL published useful tips to help preserve dahlias in winter.
Subscribe to OBOZREVATEL's Telegram and Viber channels to keep up with the latest developments.