Trending:
How to behave at a funeral: unspoken rules to remember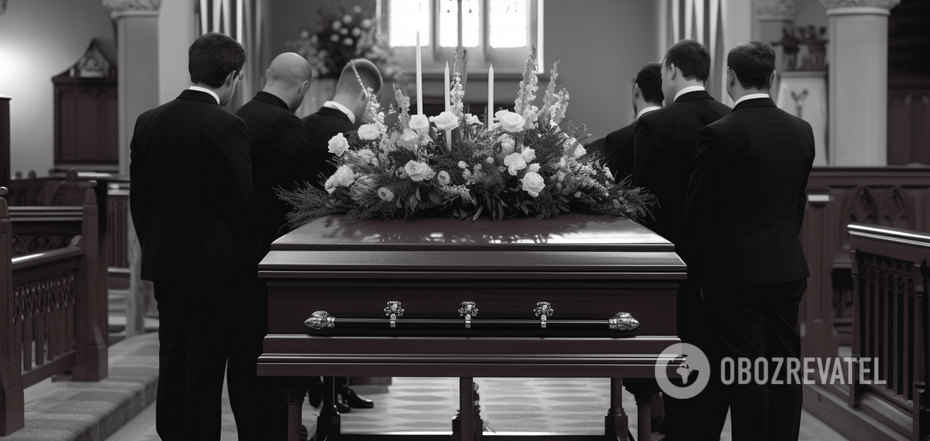 Timely help is even more important than support during a funeral
It is a sad reality of life that sometimes we have to attend funerals and say goodbye to people close to us. The pain of loss can make us lose control of ourselves and start to express our feelings very strongly. Of course, everyone will understand such manifestations and provide the necessary support. But the rules of etiquette can help you keep your temper in check.
OBOZREVATEL talks about the basic principles of behaviour during a farewell ceremony. Let's say the main thing right away - you need to treat everything that happens with understanding and compassion. Difficult moments require empathy - this is the most important thing to remember.
Don't correct someone else's behaviour
People may seek solace in their grief in a variety of ways that may seem strange to you personally, from observing certain signs to acting out. Don't try to make someone who you think is behaving inappropriately behave normally. We all express ourselves in different ways, and everyone has the right to express their emotions in the most appropriate way.
Find out all the nuances in advance
When saying goodbye, it's important not to cause people unnecessary trouble. So try to find out all the information you need in advance. Where the ceremony will take place, who is invited to the wake, how to get to the cemetery, what rite will be used, what flowers to bring, whether it would be appropriate to order a wreath - it is better to clarify all these details the day before.
Offer to help
Don't try to comfort the person in grief - it won't work at this point anyway. Although you should definitely say words of condolence. Instead, offer to help. Ask how you can be of service. If you are asked to do something, make every effort to fulfil this request. It will be more appropriate to relieve someone whose world has just turned upside down than to say banal phrases like "hang in there" or "time will heal" - it's better to forget about the latter phrase altogether, it's completely insensitive.
Don't draw attention to yourself
During a farewell ceremony, loved ones often take turns delivering a farewell speech. Don't turn it into your own benefit. Try to speak for no longer than one minute and think about what you are going to say in advance. It is better to speak from the heart and try to avoid unnecessary pathos. A good solution is to share a fond memory of the deceased. Your task is to express sincere feelings, not to impress. Try not to move away from it.
How to behave at a funeral
If you don't know the funeral rituals, just follow the others and repeat their actions.
Dress in dark clothes of a discreet style. Make sure that the outfit is appropriate for the weather.
Bring water, something to calm you down, tissues - whatever you need if you or someone else starts to show emotions.
Switch your phone to silent mode and keep it in your bag or pocket throughout the ceremony.
In a funeral procession, everyone walks behind the coffin. Follow this rule.
Each participant of the farewell throws a handful of earth on the coffin. Do not refuse this rite.
During the funeral, refrain from extraneous conversations and do not try to joke.
If a memorial meal is served at the funeral dinner (for Orthodox Christians, this is kolivo, but there may be other options), it should be tasted first.
During the commemoration, people drink without clinking glasses or glasses.
Earlier, OBOZREVATEL told what rules of etiquette are constantly violated at weddings.
Subscribe to OBOZREVATEL's Telegram, Viber and Threads channels to keep up with the latest developments.