Trending:
How often you should clean your bathroom: you'll be surprised by the freshness and shine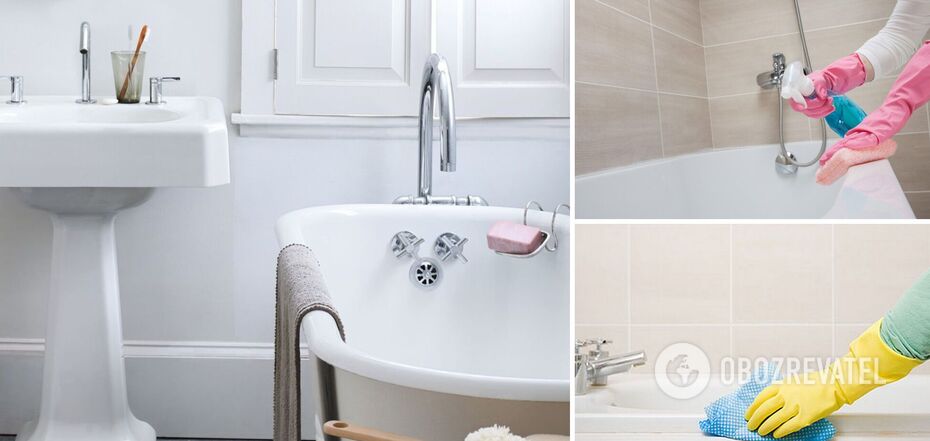 Some things should be cleaned in the bathroom every day
Not cleaning your bathroom regularly can cause mold and various types of fungus. Excess moisture settles on the walls and surfaces, and some things, such as a mat or towels, become real breeding grounds for bacteria.
Naturally, rubbing intertile joints and cleaning the sewer spout every day is not worth it either. How often should be cleaned in the bathroom and what should be done daily, was sorted out by OBOZREVATEL.
What you need to wash every day
You can reduce the risk of mold and pathogenic bacteria by scrubbing your bathtub, sink and faucets every time you wash and shower. It doesn't take a lot of time. Just sponge the faucet and shower, pull hair out of the drain, wipe splashes from the sink and dust off shelves and mirror.
Drying or changing towels should ideally be done every day, too.
Cleaning once a week
At least once a week you should vacuum the mats and mop the floor. Tiles, mirrors, glass and shower funnels should also be cleaned at the weekend. By the way, if you hastily wipe them daily, the amount of work on weekends will be significantly reduced.
What can be cleaned once a month
Clean the intertile joints, service the washing machine should be at least once a month.
Unpleasant odor from the drum, mold under the rubber seals, contamination of the powder compartment can lead to serious malfunctions of the washing machine.
The sewer drain is advised to be cleaned as it becomes soiled, optimally once a month. You can also wash mats and curtains.
Earlier OBOZREVATEL told how to properly wash a blanket in the machine, so as not to spoil it.
Subscribe to OBOZREVATEL channels in Telegram and Viber to keep up to date.