Trending:
How many hours should dogs sleep: vet's answer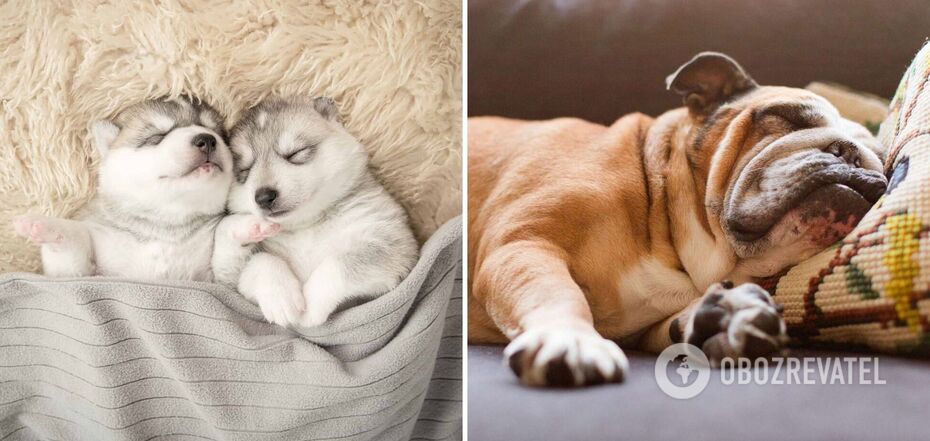 Young puppies and older dogs need the most sleep
We all seem to know how much sleep a person should get. But what about our pets? For example, how much sleep does a dog need per night? And what are the parameters that determine how long a pet gets a healthy night's sleep?
USA TODAY interviewed veterinarians. And here's what they told us about how dogs should sleep.
How many hours of sleep does a dog need?
Most dogs spend about half a day sleeping. Usually this figure ranges from 12-14 hours. However, much depends on the age of the animal. Young and older dogs tend to sleep longer than middle-aged dogs. The above figure is best for young and active animals.
How long do puppies sleep?
Newborn dogs, like any infant, spend most of the day sleeping, occasionally waking up to eat. As they get older, they spend a little more time playing before falling asleep.
By six months of age, the time a puppy is awake is noticeably different. However, animals still fall asleep instantly at this age. This looks very funny and is the absolute norm. The little dog can fall asleep right in the middle of play or in uncomfortable conditions. At this time, the animal is growing intensively and needs deep rest in order for this energy-consuming process to be successful. Therefore, his brain sometimes just "shuts down".
And how do older dogs sleep?
Like puppies, older dogs need extra rest. They no longer have the same energy level and rest longer than the average 12-14 hours.
As your dog moves into old age, it is important to pay extra attention to how he sleeps. Sleeping problems can be a symptom of some illness - hypothyroidism, heart or kidney disease, diabetes, arthritis, and so on. If your veteran dog's sleep has worsened, that's a clear signal that it's time to see the vet.
Also, behavioral abnormalities specifically at night may indicate that your dog has begun to develop a condition called canine cognitive dysfunction. It is most similar to human dementia. The animal may go back and forth, have trouble navigating familiar spaces, and behave confused. Such a condition also needs to be corrected. For example, the veterinarian may prescribe the dog sedative pills or the hormone melatonin, which makes it easier to fall asleep.
Previously OBOZREVATEL told how to help the dog to survive the heat.
Subscribe to OBOZREVATEL channels on Telegram and Viber to keep up with the latest news.