Trending:
How and when to water orchids to make them bloom more often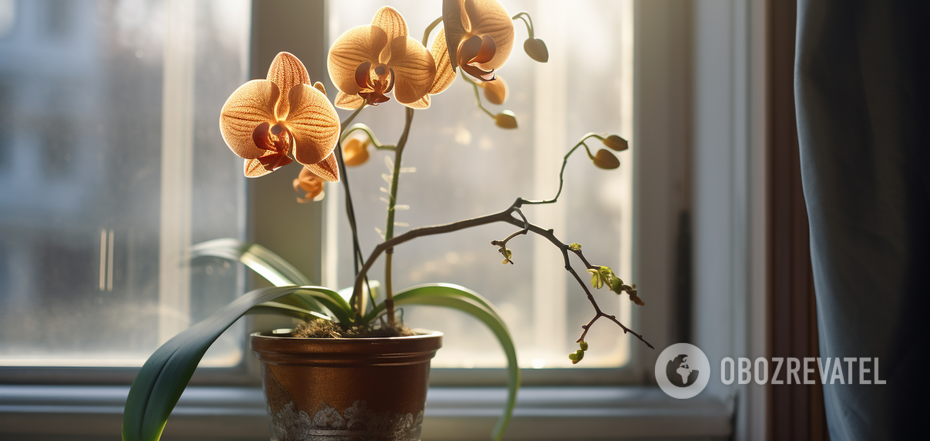 How to care for an orchid properly
Orchids have gained a reputation for being rather whimsical plants. The flower, even with regular watering and fertilization, often does not bloom for some reason.
It's important to provide the orchid with proper care, especially during the colder seasons. Read the OBOZ.UA article on how to water an orchid to make it bloom more often.
How to water an orchid in the fall and winter
With the onset of cold weather, the orchid goes into a state of dormancy, so watering should be reduced during this period. If the room is cool, you can water the plant once every two weeks. It is important to check the substrate as it should be dry.
Do not water the orchid with cold water as this can cause stress. It is better to warm the water a little. Be sure to pour out excess water from the sump after watering to prevent fungal diseases.
One of the most common mistakes is to apply all fertilizers indiscriminately. Experts say that if the plant is healthy, there is no need to apply fertilizers for orchids during this period.
If the air in the house is dry, you should spray the leaves with warm water from time to time.
Care during the warm season
If you have properly cared for your orchid in the fall and winter, it will start to grow and bloom with the onset of warm weather. During this period, increase watering to 1-2 times a week, depending on the condition and dryness of the substrate. Waterlogging will lead to rotting of the leaves and root system.
It is best to water the flower in the morning or in the evening when direct sunlight does not fall on it. The water should be soft, settled, and warm.
Earlier, OBOZ.UA shared how to transplant an orchid and what are the most common mistakes that lead to the death of the plant.
Subscribe to OBOZ.UA on Telegram and Viber to keep up with the latest events.