Trending:
How a well-known blogger turned out to be a thief and makes money from other people's work: we tell you how the scheme works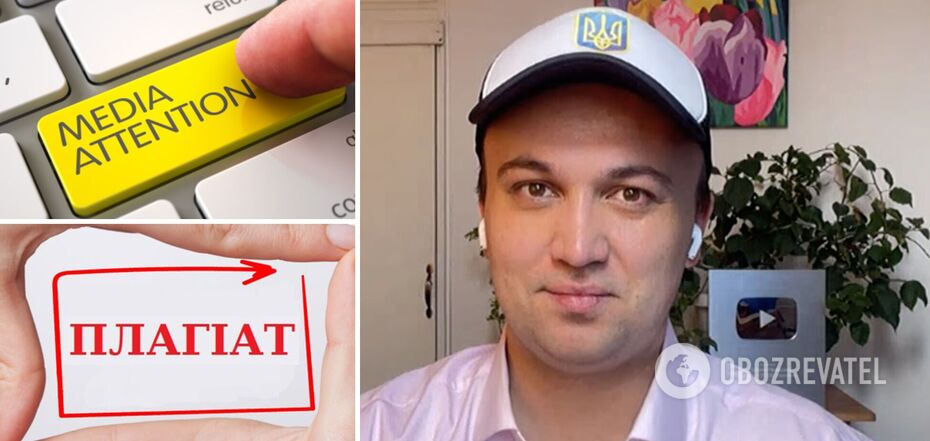 Rostyslove Production earns money on the works of Ukrainian media
Rostyslav Kalatsynskyi, a well-known Ukrainian blogger whose YouTube channel Rostyslove Production has over 500,000 subscribers, is gaining popularity on the work of well-known media. The Ukrainian, who positions himself as a blogger and journalist, voices the texts of online publications to his video sequence, ignoring copyright, journalistic ethics and basic moral principles.
He does not provide any links to sources, and often does not mention the names of media outlets in his videos. OBOZREVATEL decided to expose the blogger's scheme of making money by stealing other people's materials (to see photos and videos, scroll to the bottom of the page).
The Rostyslove Production channel publishes about 3-4 videos about current news per day. This number of videos is due to the fact that Kalatsynsky cynically steals copyrighted material from his colleagues who work in top Ukrainian media. In particular, he makes money from OBOZREVATEL articles.
On the blogger's page, you can see articles from TSN (video), OBOZREVATEL (video), UNIAN (video), and possibly others.
The scheme is simple: Kalatsynskyi reads other people's works, sometimes changing words and avoiding the names of publications. For example, if a story says: "OBOZREVATEL decided to tell", the blogger changes it to: "Today I will tell you". In the background, a video sequence with photos and videos of the subjects of the article is played.
He is likely to monetise his videos by profiting from articles written by others. They get tens of thousands and sometimes millions of views. The blogger earns his authority and recognition from his subscribers dishonestly, as he "borrows" topics and texts, but in reality he simply steals them. In the channel description, the blogger asks for financial support.
As we noted above, Kalatsynskyi does not provide any references to sources. Only in some videos can we find out how he learned about this. For example, here he cites the website as it was written in the original. However, this seems to be an exception to the rule, as Kalatsynskyi does not do this in other videos.
It should be recalled that such actions are a violation of the rules of the websites from which the blogger takes information. In particular, OBOZREVATEL's policy stipulates that the publication's materials can only be used with a link to the website.
At the same time, TSN's policy prohibits modifying, publishing, republishing, reproducing, creating new works, distributing or using the content of the site in any way.
UNIAN's policy stipulates that quoting materials is allowed provided that the hyperlink to the specific material is open to search engines.
The blogger often even uses media headlines to avoid coming up with their own titles for the videos. This scheme has been working for months.
The OBOZREVATEL editorial team has prepared some examples of Rostyslav Kalatsynskyi's violation of these rules, which are publicly available on the channel.
The original article about Povaliy, dated yesterday, and the blogger's video.
An article about the traitors of Ukraine who remained in the Russian Federation, and the author's text on the blogger's channel.
Material about the disruption of Christina Solovoy's concert and its recitation from Kalatsynskyi.
Earlier OBOZREVATEL wrote how in Transcarpathia uncovered a new scheme of transportation abroad evaders. Those who do not want to become in defense of the homeland, were caught red-handed..
Only verified information is available in our Obozrevatel Telegram channel and Viber. Do not fall for fakes!