Trending:
Home will be like on vacation: what tropical plants can be planted in the apartment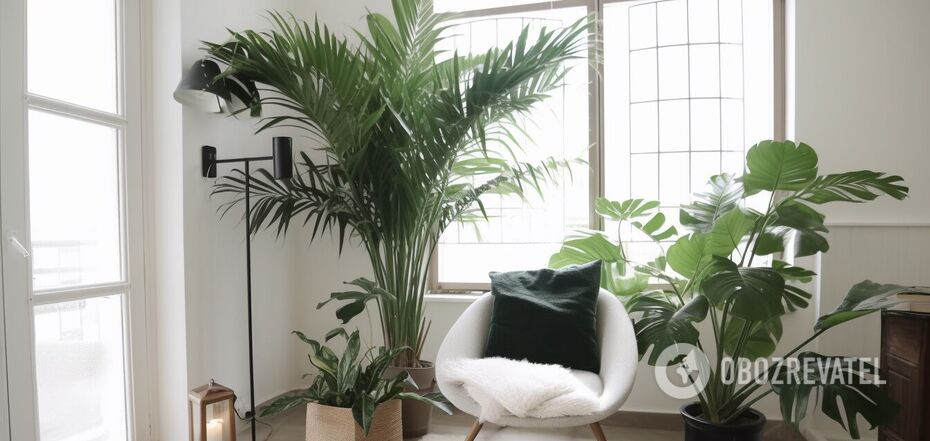 Tropical plants need regular moisturizing
Tropical plants are fastidious because they are used to a humid and warm climate. Housewives who love exotic flowers in vases can plant them in the apartment, but they need special care.
Therefore, you should put such flowers in the right place and water them in time. OBOZREVATEL collected a list of the most popular tropical plants and learned how to care for them.
Ficus Benjamin (Weeping fig)
Vazon gets its name because of its slender, sloping branches and dark green drooping leaves that supposedly weep. It is a popular houseplant because it can live for more than 20 years. Ficus is native to Asia and Australia. This tree grows quickly and needs to be repotted often into a larger pot. But be careful because the plant is toxic to humans and animals, its sap can irritate the skin.
Aloe vera
There are more than 500 varieties of this plant and aloe vera is the most popular. The transparent gel has medicinal properties, it acts as an anti-inflammatory agent and is used to treat cuts, wounds and burns. Aloe vera should be placed in a sunny place and the vase should not be watered often.
Forster's Hovea (Kentia palm)
The Kentia palm is hard to propagate, so it is expensive. This thorny plant requires little care and does well in low light and with little water.
Cordyline
The vase looks like a palm tree and has green and pink coloring running along the leaves. Cordyline needs high levels of moisture, rainwater and distilled water. The roots of the plant are powerful, thick, white in section. In room conditions, the vase rarely grows more than one and a half meters in height.
Peace lily (spathiphyllum)
This plant should be placed in a sunny spot. Lily is not difficult to grow, it has white flowers and glossy green leaves and can grow up to a meter in height. There are different types of peace lilies, although they all have very similar traits, requirements and care. The main features that vary between varieties are the colors of the flowers and the appearance of the leaves.
Philodendron
The plant's three main attributes are its large leaves, rich green hue and glossy sheen. It is an unpretentious vase that can grow curly or flocked. You can decorate the walls or windows with it. The frequency of watering philodendron depends on how much light the plant receives, but on average - once every one to two weeks.
Aglaonema (Chinese evergreen)
The plant has large oval glossy leaves with short colorful stems. It is a hardy vase that is easy to grow because it adjusts to all conditions in the room. Aglaonema has small white flowers that bloom in April or August.
Diffenbachia
This plant is toxic and can be dangerous to people and pets. But it is a widespread houseplant. Diffenbachia is native to South America, specifically the Caribbean, and grows better in high humidity and diffused shade. The leaves have white spots on them, which makes the plant attractive.
Monstera delicata
Monstera belongs to the philodendron family, has heart-shaped leaves that split along the perimeter. The plant is unpretentious, but requires regular moisturizing and a pot with several drainage holes so that water is not retained.
Schefflera arborescens
The vase can adapt to different growing conditions, so it is unpretentious. The leaves are oval and droop downward, creating an umbrella shape. The plant requires indirect light, moisture, warmth and well-drained soil (soil that allows water to drain at a moderate rate).
Strelitzia (bird of paradise)
The plant is named after a flying bird, it has long leaves and brightly colored flowers. This interesting plant grows to a height and width of 1.5 meters. Strelia can be left outside during the warm season, and moved indoors when the temperature starts to drop. With proper care, strelitzia can grow up to one meter in height.
Asplenium nidus (bird's nest fern)
The fern's leaves are shaped like a crown. The plant needs high humidity, but should be kept out of direct sunlight. This is because the light can burn the bright green leaves. The fern is usually only grown indoors because it is sensitive to frost.
Sansevieria
Wavy green leaves are covered with yellow or cream veins, like a snake. The plant is hardy and unpretentious to grow. It grows well in a slightly shaded place or in bright but diffused light. Water less in cold weather than in summer.
Earlier OBOZREVATEL told how to properly clean the leaves of indoor flowers from dust and dirt, so as not to damage the plant.
Subscribe to OBOZREVATELchannels in Telegram, Viber and Threads to keep up to date.