Trending:
"He returned to the front three times wounded": basketball player's father still can't bury his son who died in hell near Vuhledar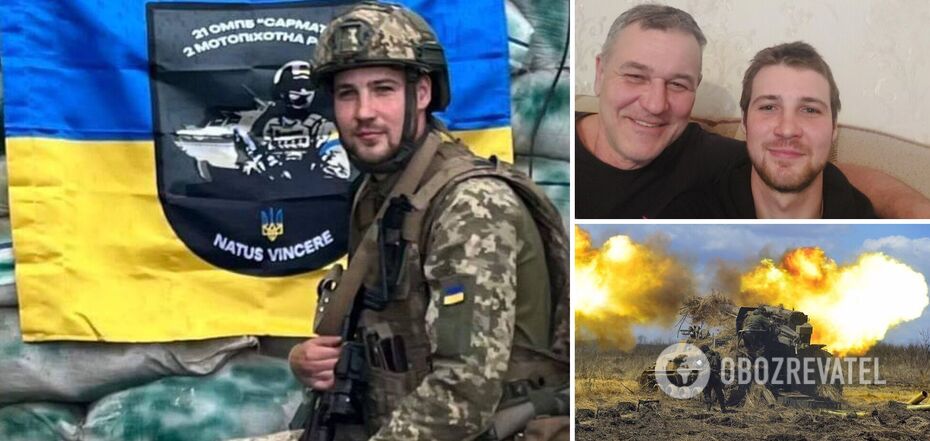 Serhiy Shvydkyi was wounded three times in 2012
Basketball coach Eduard Shvydkyi raised his son alone after the death of his wife, Sergiy's mother, who was 12 years old at the time. But Sergiy has always been a fighter - both on the basketball court, where he got there with the help of his father, and in the army. The athlete gained combat experience in the ATO zone, but on January 26, he was killed during the defence of Vuhledar. And his father cannot even bury his son - Serhiy Shvydkyi's comrades-in-arms could not take his body off the battlefield.
Eduard Anatoliyovych speaks with warmth and pain about his sports angel, and he really wants to see him one last time and say goodbye.
"It so happened that I was both a coach and a father to my son. When Serhiy was in the first grade, I remember waiting for him to grow up and for me to take him to play basketball," recalled the father of the fallen hero, who has been a coach at the Chernihiv Regional Children's and Youth Sports School for many years.
Serhiy proved to be a bright student: "We formed a team, and he started participating in competitions and travelling to other cities. He took part in the Chernihiv region championships and Ukrainian championships. Sergiy was very fond of basketball and sports in general."
"If he had to run cross-country or take part in other competitions for school or college, he was happy to do it. There was no need to persuade him. Some of the athletes who died in this war became European or world champions. Sergiy did not, but he was very fond of basketball. And every medal and diploma from his childhood was of great importance. He would put them all together and hang them up. He carefully kept photos from competitions in albums," says Shvydkyi Sr.
From 2011 to 2015, Sergiy studied at the Chernihiv Industrial and Economic College of the Kyiv National University of Technology and Design. After that, he did his military service in the Ukrainian army, and then decided to stay in the Armed Forces, but on a contract basis.
"I went through a psychologist, tests and physical training, because not everyone was accepted back then. Then I signed a contract and fought in the ATO zone. He fought, fought and God, as they say, protected him. Although he was wounded. I hoped that this time it would be okay. I asked him: "Serhiy, live!" What else could I say? And he answered: "If not us, who will protect you?" - Shvydkyi recalled.
The full-scale invasion on February 24 caught Serhiy in Donetsk Oblast, near Pisky. At that time, the fighter from Chernihiv had risen to the rank of senior sergeant of the 21st Separate Sarmat Infantry Brigade, was promoted to officer and became deputy company commander. His father recalled that in Pisky, Serhiy made his first night raid and brought back three prisoners, which he was very proud of.
During the 11 months of the full-scale war, the basketball player went through many hot spots, but he was in no hurry to share his military routine even with his father: "He didn't want to tell me much about the battles, what was happening there, how they were fighting. If I asked, he would tell me something. But he never did. He just said: "Everything is fine. Everything is fine."
However, the soldier admitted to his father that he was not going to surrender because he was a senior sergeant, and the occupiers "especially mock such people".
In 2022 alone, Serhiy was wounded three times. The first time a shrapnel hit him in the cheek. The second time, the grenade launcher shot down two Russian armoured personnel carriers, but suffered a concussion and an open fracture of his arm, which had to be fitted with a spoke. After it was removed, he had to wear a cast for three weeks, but Serhiy took it off and returned to the front in April.
Shvydkyi was wounded for the third time in the summer, when a fragment of a grenade launcher hit his body armour and stuck in his back. At the time, doctors in Dnipro were afraid to remove the shrapnel and sent him to Lviv for surgery. However, he also did not undergo full rehabilitation, as he was in a hurry to return to the front.
"It was a coincidence that he came home just before the New Year, a month before he died. And this week with him is now standing before my eyes - every day, every minute, every moment. It feels as if he came to say goodbye," says Eduard Anatoliyovych.
At that time, the city was hosting the Chernihiv Oblast Basketball Championship among adults.
"He said to me, 'Dad, I'm going to watch. And I ran around watching the matches. I ran to my friends' houses, to cafes, and everywhere else. I was thinking: 'How can it be? I don't have time to talk to anyone really'. And then I decided, well, let him at least see everyone, it seems to be quiet in Chernihiv now. Let him at least have a little rest from the hell at the front," Shvydkyi said.
On January 23, it was Eduard Shvydkyi's birthday, and Serhiy called to congratulate him and promised to send him a present. He generally took care of his family and sent money for his grandmother's treatment. The last time the coach spoke to his son was on the 25th, when he told him that they had been transferred to another position. And the next day, when Serhiy did not answer his father, his hands trembled. On January 26, the basketball player was killed in the battle for Vuhledar.
"I sympathize with all those fathers and mothers who have buried their children. But it happened to me that I can't even bury my son. And this is the biggest tragedy for me. He died in an active war zone, near Ugledar, where Nikolski Dachi is, where there are huge craters," Eduard Anatoliyovych noted.
The twins called their father and told him that Sergey, who was a company commander, with his guys held the line during the first assaults of that area: "We were under a terrible artillery barrage. I asked: "How did he die? Did he suffer or not? They answered that he didn't suffer".
According to Shvydkyi Sr., the Russian occupiers shelled his son's positions with 182-calibre artillery and fired from Hyacinths. After that, huge craters were left there. However, due to the active fighting near Vuhledar, it is impossible to even start searching for the body of Serhiy and 9 other guys.
"Sergiy's comrades say that until they are moved out of there, there is no way to find or see anyone. I applied everywhere I could, but all I heard was: "Wait, wait, wait..." And why wait?" - wonders a broken father, who, after his son's death, is in so much pain, "as if his heart had been torn out".
Earlier, OBOZREVATEL reported that doctors had been fighting for the life of the 4-time world champion and former Ivano-Frankivsk deputy who fought in Donbas for two days.
Only verified information is available in our Obozrevatel Telegram channel and Viber. Do not fall for fakes!