Trending:
Glasses will shine like a showcase: what to add to your dishwasher to improve the quality of cleaning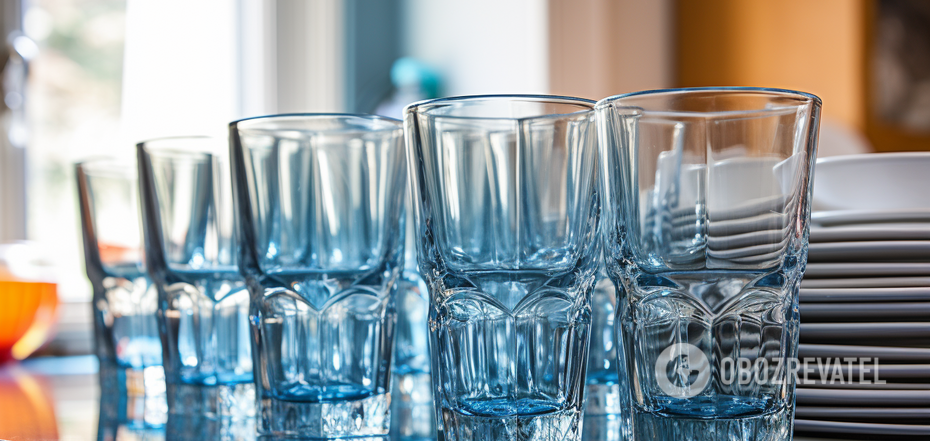 Dull glasses can be caused by mistakes made during dishwashing
Whether you wash glassware by hand or in a machine, you've probably encountered the following problem: after cleaning, the glass still looks cloudy. There may be several reasons for this: hard water, unsuitable detergent or excessive detergent, overloading the dishwasher.
OBOZ.UA figured out what you need to do to restore the shine to your glasses and more. And you need to start by determining what exactly caused your glasses to become tarnished.
Hard water
To remove at least some of the salts that make tap water hard, install a softener or filter. Also, every 2-3 months, rinse the dishwasher with a special tablet. It will clean the appliance from the inside and remove any limescale that may get into the water during washing.
Too much detergent
More is not always better. For example, when it comes to any detergent, excess always leads to undesirable consequences. So be sure to take the one you're using and read the instructions carefully. Adjust your use accordingly. Experts say that it is better to put less detergent - it will still cope with the dirt - than to overdo it and then it will not be completely washed off.
Also, do not use expired liquids and powders. They can also give a cloudy coating on the dishes. Also, try setting a higher washing temperature. Hot water dissolves dirt better and cleans items better.
Overloading the dishwasher
If you put dishes in the dishwasher too tightly, the water does not wash the dishes as well. As a result, the quality of both washing and rinsing decreases. Try not to stack plates and bowls on top of each other, leaving enough space around each item. You will not save money this way, but on the contrary, you will have to wash the dishes again.
Bonus - how to clean dull cutlery and glasses
If you use a dishwasher, you can easily restore shine to dull silverware. To do this, simply take a piece of baking foil, crumple it up, and place it in the cutlery compartment. It will help mechanically clean forks, spoons and knives and remove even stubborn stains. Foil can also help clean glasses. But make sure that the piece is not too small and does not get stuck in the machine parts.
Earlier, OBOZ.UA told you how to clean yellowed plates to restore their whiteness.
Subscribe to the OBOZ.UA channels in Telegram and Viber to keep up with the latest events.