Trending:
Germany in 5 days: the best destinations for a short trip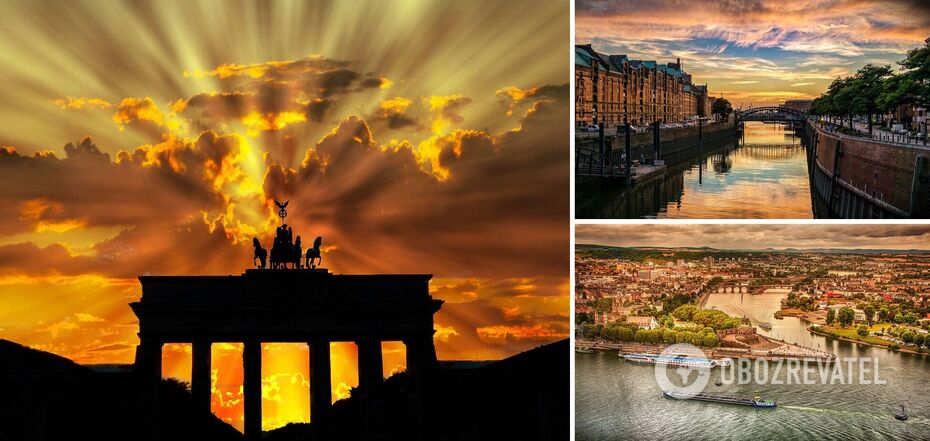 The most beautiful cities in Germany
Germany is an incredibly beautiful country with many historical monuments, nature reserves, unusual cities and colourful festivals. People come here to experience new emotions. However, sometimes there is not much time to enjoy this country to the fullest. What destinations are worth paying attention to if you have only 5 days at your disposal.
Stuttgart
This ancient city will definitely surprise you with the number of parks. It is rightfully considered the greenest city in Germany. But it's not just eco-tourism that attracts foreigners to Stuttgart. It was here that the history of the famous car brands Mercedes-Benz, Maybach and Porsche began. This is confirmed by their museums with unique exhibits.
The city is also located in one of the most famous wine regions in Germany. So it's a sin not to try the local alcoholic beverages, which will impress you with their rich taste and variety of varieties. Of course, there is also a museum dedicated to this craft.
Also, don't forget to check out the other attractions of Stuttgart:
Palace Square (where the New Palace, the Old Castle, a column and several fountains are located);
Museum of Art;
The Ludwigsburg Residence, which has a magnificent garden next to it and several museums inside;
Württemberg Land Library, which contains 15 thousand manuscripts, 35 thousand ancient letters and 19 thousand printed Bibles.
In addition, don't miss the opportunity to just walk around the city. Its views deserve your attention.
Dresden
You can come to Dresden dozens of times and constantly find something new for yourself. It is a city of contrasts, combining beautiful architecture of different eras, ancient cathedrals, modern districts, palaces, galleries, squares...
However, if you have only 5 days and are visiting this city for the first time, then start your exploration with the following attractions:
Brühl Terrace is a long promenade that stretches along the Elbe River. This place is adored by Dresden residents for its calm atmosphere and incredible views;
Zwinger Palace, which houses an art gallery, the Armoury and several museums;
The Princely Procession is a panel that adorns one of the walls of the castle-residence of the kings. It took 25,000 tiles to create this work of art.
Leipzig
Another famous German city attracts tourists with a large number of attractions, bars with craft beer, and other interesting locations. This destination is suitable for those who like to combine cultural holidays with entertainment.
It's no secret that Leipzig is rich in historical monuments. The most famous of them are definitely worth seeing:
The Old Town Hall is a classic medieval building that is found in many European cities. It is also considered the most beautiful Renaissance building in Germany;
St Nicholas Church, which hosts amazing organ music evenings;
Koff Baum - the oldest coffee shop in Leipzig and one of the oldest in Europe. It has been open since 1717.
In addition, the city has many museums, each of which will surprise you with something special. There is also a wonderful zoo with a large number of animals.
Munich
If you ask the average person what they associate with Munich, they will probably say museums and beer. This is not surprising, as it is the capital of world-famous Bavaria. So you'll have more than 40 museums, 70 galleries, ancient palaces and magnificent parks at your disposal.
Start your exploration of Munich by visiting the following locations:
The Old Town is worth a visit if you enjoy walking among historical monuments, as they are at every turn;
The Pinakothek is one of the world's most famous art gallery complexes, where you can see paintings by Leonardo da Vinci, Rubens and other artists;
Nymphenburg is a palace complex that was once the residence of the ruling dukes.
Heidelberg
One of the most romantic cities in Germany is also considered to be its scientific centre. Here, among the ancient castles, old buildings and hidden paths, there are research centres and renowned universities.
What tourists should see here:
The old town, which combines many well-preserved baroque buildings;
Heidelberg Castle, also called the most famous ruins in Germany;
The Philosophers' Trail, which leads to the Mountain of the Saints.
In general, Germany is too diverse to get to know in a short holiday. It can be explored for years, visiting new places every time.
Earlier, OBOZREVATEL told about the most beautiful tourist destinations in Europe.
Only verified information is available in our Obozrevatel Telegram channel and Viber. Do not fall for fakes!