Trending:
From shoes-vacuum cleaners to a robot that delivers toilet paper: the most ridiculous inventions of mankind in 25 years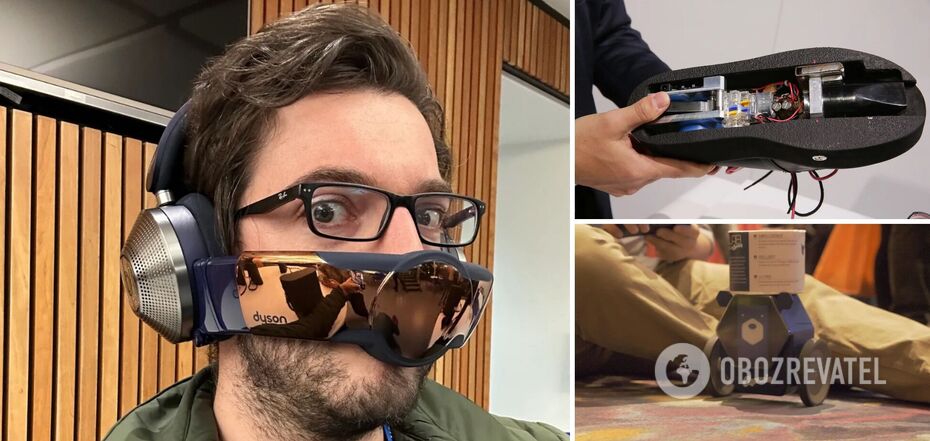 Some inventions seem to exist simply because they can
Just like some high fashion pieces that can only exist on the catwalk and in colourful photo shoots, some of humanity's inventions are meant to be displayed exclusively at various exhibitions. One of these events is the Consumer Electronics Show, which annually surprises the world with both inventions that are useful and those that seem to be designed only to ask "why?"
CNET has compiled a gallery of such inventions. Some of them, despite their absurdity, managed to find their buyers.
Dyson Zone air purification headphones
One of the latest amazing inventions is headphones with the function of a kind of gas mask. The Dyson Zone was announced on the back of the popularity of COVID-19 masks, although it does not protect against the coronavirus, and development began in 2016. In fact, these are headphones with a filter that can protect against polluted air, but not germs. The price is $949.
Charmin Rollbot
In 2020, the toilet paper brand Charmin also came to CES to present its own product. What could a toilet paper company come up with? It turned out that it was a robot with one single function: if you get into trouble in the toilet, RollBot will gladly bring you a fresh roll of paper. Is it convenient? Is it useful? Who knows...
The robot never went on sale. Fortunately.
Kolibree Smart Toothbrush
In 2014, Kolibree introduced the concept of a smart toothbrush that would monitor how you brush your teeth. To do this, you need to install the app on your mobile phone and connect the brush via Bluetooth. During the brushing process, the brush analyses how well you do it and how much attention you pay to each tooth, and then transmits this data to your smartphone. The price is $100-200. Surprisingly, the idea has caught on. Now, brushes with the Kolibree app can be purchased for between $50 and $70, depending on the configuration.
A case with an MP3 player function for a stun gun
In the 2000s, when the iPod became a cultural phenomenon, every technology company tried to create its own MP3 player. The culmination was the Taser MP3 player, introduced in 2008. What is its absurdity? Taser is a manufacturer of stun guns that could not think of anything better than to build an MP3 player into a stun gun case. This miracle of technology with 1 gigabyte of memory was sold for $80.
Pepe pet dryer
If you like to give your pet a bit of a thrill from time to time, the Pepe pet dryer, which was introduced in 2019, will come to your rescue. If you find it difficult to dry your pet with a towel, just close it in a drawer for 25 minutes and watch it go crazy. It is unknown what the developers were thinking, where animal advocates were looking. You may be surprised, but the device has found its buyer, despite the cost of $660.
HapiFork
There have been so many gadgets throughout history designed to limit normal human behaviour, but this one has exceeded expectations. The HapiFork, launched in 2013, is another gadget with a vibration mode that aims to make you eat your food more slowly. According to the creators' plan, it will take more than 20 minutes. This smart fork analyses the speed of eating and vibrates if it is done too fast. Surprisingly, the so-called smart fork has found its buyer, although it costs more than $60.
Belty
This smart trouser belt has had two revisions: in the first version, it was equipped with a motor and could adapt to the situation, loosening if you ate or sat down. It sounds good in theory. The new model, introduced in 2015, unexpectedly lost the motor, but a charger appeared in the buckle to which you can connect your smartphone. Interesting? Yes! Is it dangerous? Oh, yes!
Xybernaut Poma
First shown at CES 1998, Hitachi's Xybernaut laptop computer was a strange idea, to say the least. The Windows CE-based Xybernaut Poma offered a 128-megahertz RISC processor and 32MB of RAM for a price of $1,499. It had to be worn simultaneously on the arm, face, and belt. It was hardly how we imagined the man of the future.
Denso Vacuum Shoes
It is difficult to invent something new with shoes. Yes, you can add rollers or an automatic lacing system to them. But what else? This is what the manufacturers of Denso, who brought vacuum cleaner shoes to the exhibition in 2017, were thinking about. Why? Just because... and why not? There was not even a hint of the cost of such an invention. And that's a good thing.
Previously OBOZREVATEL told about 10 inventions of mankind, which could change the world.
Subscribe to OBOZREVATEL's Telegram and Viber channels to keep up with the latest news.