Trending:
French ski resort closed forever: what happened. Photo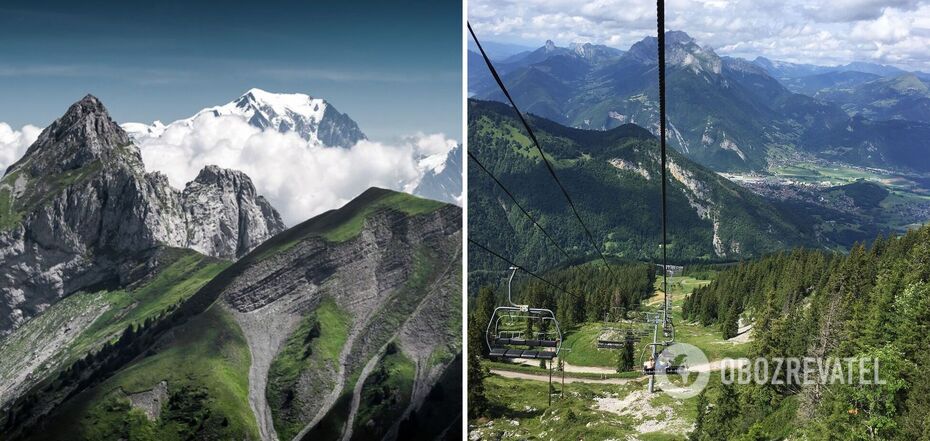 The small resort of La Sambuy is located in the North of the French Alps.
La Sambuy, a town near Mont Blanc in the French Alps, home to a family ski resort, has decided to dismantle its ski lifts. The reason is that global warming has shortened the ski season to a few weeks, so it is no longer profitable to keep them open.
This is reported by CNN Travel. According to the mayor of the city, Jacques Dallas, it used to snow from early December to late March.
Last winter there were only "four weeks of snow, and even that was not enough," he added. This meant that rocks and cliffs were showing up on the piste more and more quickly. The resort could be open for less than five weeks in January and February, according to Daleks, which could result in an annual loss of approximately 500 thousand euros. Just maintaining the lifts costs 80 thousand euros a year.
La Sambuy is a small resort with only three lifts and a few pistes that reach an altitude of 1850 meters. But with a range of slopes, from black for the experienced to green for beginners, and relatively cheap lift passes, it was popular with families looking for a more modest Alps vacation than the popular, high-altitude destinations offered.
The British website On The Snow calls it "a place of idyll, with exceptional panoramic views and everything you need in a resort.
This summer, when it came time to plan for the winter season, the city council of La Sambuy decided to close the resort it had been running since 2016. Although its ski infrastructure is scheduled to be dismantled as soon as possible, there is hope that the city will still be able to attract tourists. The mayor said that the resort will change its vector and advertise itself as a place for summer tourism and outdoor recreation.
La Sambuy's website now features a message stating that the ski resort is "closed permanently" on September 10, following a decision by the city council. "Thank you all for this last summer season of 2023 and for all the wonderful years spent with you," the message reads.
La Sambuy is not the only French ski resort facing closure. Last year, Saint-Firmin, another small alpine ski destination, decided to remove its lift after the winter season was shortened from months to weeks, a situation that is also being blamed on climate change.
Jacques Daleks says that "all winter sports resorts in France are suffering from global warming," especially those at an average altitude in the mountains between 1000 and 1500 meters.
However, not everyone in his town is ready to go down without a fight. This year, an association called Tous Ensemble Pour La Sambuy launched a petition calling for the resort to remain open by adopting a new, more durable model - mainly by ensuring the operation of a chairlift that will take tourists to the mountain in the summer.
The petition has garnered more than 1,900 signatures, and according to Christian Baye, president of the association, the group is taking legal action to overturn the city council's decision. He said the closure is "harmful" to the town and the territory, adding that the ski resort is "a social element of our small town of 7,500 people."
The mayor believes the reason for the closure is understandable. He said that global warming is obviously continuing and the effects will become noticeable even faster than scientists had predicted. According to him, it is becoming increasingly difficult for ski resorts to operate, many of them are forced to adapt to the new climate.
Earlier, OBOZREVATEL wrote about the most famous places in the world, the real photos of which will disappoint you.
Only verified information is available on the Obozrevatel Telegram channel and Viber. Don't fall for fakes!