Trending:
Ford's $400,000 all-terrain vehicle has been shown in the US. Video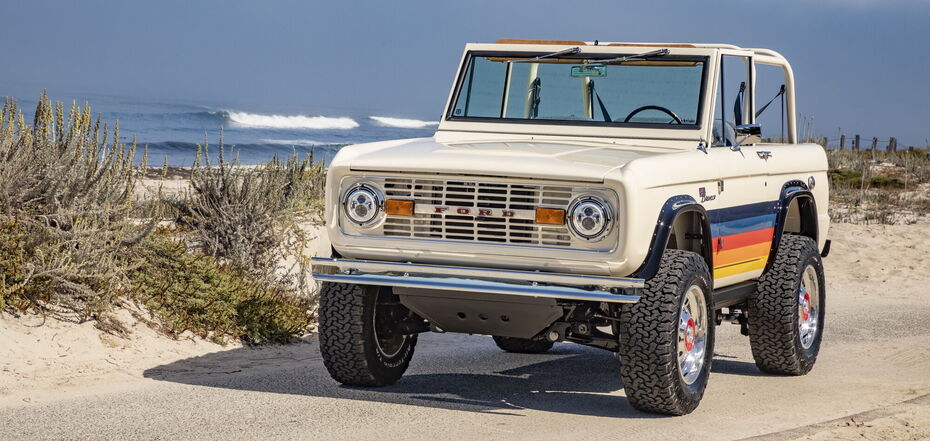 2024 Gateway Bronco Luxe-GT. Source: gatewaybronco.com.
The American company Gateway Bronco presented a Luxe-GT restomod at the auto show in California. The car has undergone a full course of restoration and received a powerful motor and an impressive "price tag" of $400000.
This is reported by the press service of the manufacturer. After 4 years of hard work and huge R&D investments, Gateway Bronco is sure that they have created the coolest vintage Bronco on the planet.
Specialists of the famous Australian company Premcar, which specializes in tuning Nissan SUVs, took part in the work on the project. In particular, the masters from Melbourne worked on a new chassis, suspension and steering.
Australians made a frame structure with a wheelbase of 2350 mm and a track of 1623 mm (front) / 1630 mm (rear), which corresponds to the dimensions of the classic Ford Bronco. There are modern components under the hood, including a 466-horsepower 5-liter Coyote V8 engine, a 10-speed automatic transmission and a system of connected all-wheel drive. In addition, the car is equipped with ABS, stabilization and traction control systems. The SUV can accelerate to the first "hundred" in 5.3 seconds.
Luxe-GT received a stainless steel exhaust system with ceramic coating and adjustable valves. The showpiece is finished in original Glasurit Piano paint with decorative stripes on the doors and a set of 18-inch wheels with BF Goodrich K02 rubber, while the door and floor of the cargo area have a maple veneer finish.
The interior trim looks very attractive due to the successful combination of leather, wood and denim. The car is equipped with a 4-point safety cage, a Focal audio system, a large screen infotainment system, a rearview camera, air conditioning and power windows.
The frame chassis will be produced by RLE International in Detroit, and the final assembly of all-terrain vehicles will be made at Gateway Bronco in Illinois. The cost of the exhibition copy of Luxe-GT reaches $400000, but the company Gateway Bronco is ready to offer options in the price range from 200 to 800 thousand dollars.
As previously reported by OBOZREVATEL, a unique Ford Bronco restomod was equipped with a motor from Mustang.