Trending:
For a much bigger harvest: when to prune apricots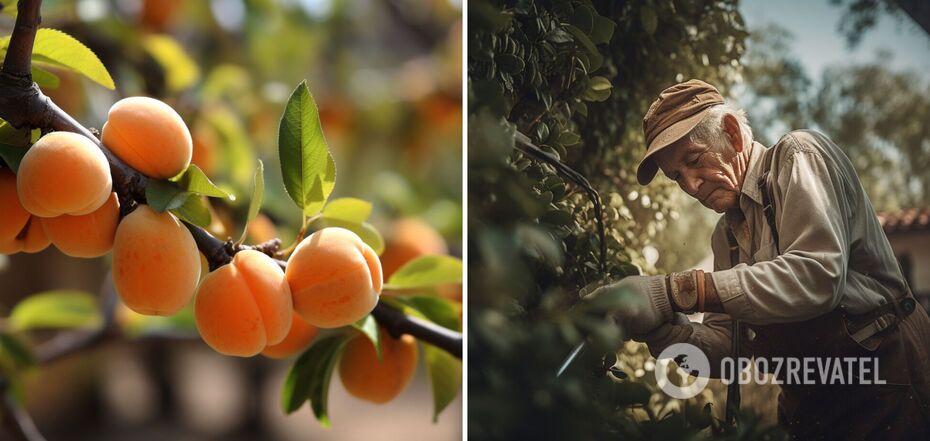 Apricot may require pruning several times a year
Apricot is a fast-growing tree that decorates the dacha plot well, blooms beautifully and gives an abundant harvest. Many dacha growers claim that it does not need care. But this is a myth.
As OBOZREVATEL found out, except for watering, feeding and protection from diseases and pests, apricot needs regular pruning. And with the inherent speed of growth of the tree procedure may require it several times a year. Therefore, we tell you about the seasonal features of apricot pruning.
Spring
This is the traditional pruning season for fruit and other garden trees. Apricots need this procedure from the second year after planting. It should be done when the temperature is above freezing, but before the leaves start to blossom on the branches.
Summer
At the beginning of summer comes another period of active growth of the apricot tree. Especially when it is still young. Therefore, in June it is necessary to thin the crown of the plant. It is better not to delay with summer pruning, because at this time the cuts will heal fastest.
In the summer, you can also carry out apricot grafting. This will help make it more resistant to weather changes, increase its immunity to diseases and increase yields. But grafting should not be carried out simultaneously with pruning. These works are better to postpone until the end of July - early August. How and from what to graft apricot, you can learn in detail at the link.
Autumn
In the fall, it is time to balance the number of deciduous and fruiting branches of the tree. The fruit-bearing ones exhaust the apricot more quickly, so they should be thinned out periodically. Although this reduces the yield, it prolongs the life of the plant. Remove those branches that have been fruiting for 3-5 years. After that, their yield begins to fall, so one such branch per year can be cut.
An important nuance - fall pruning is suitable only for early varieties of apricots. Late varieties can be pruned only in spring.
Earlier OBOZREVATEL told how to properly care for currants after harvesting.
Subscribe to OBOZREVATEL channels in Telegram, Viber and Threads to be aware of the latest events.