Trending:
Find the mistake in the picture: a task that only people with high IQ can do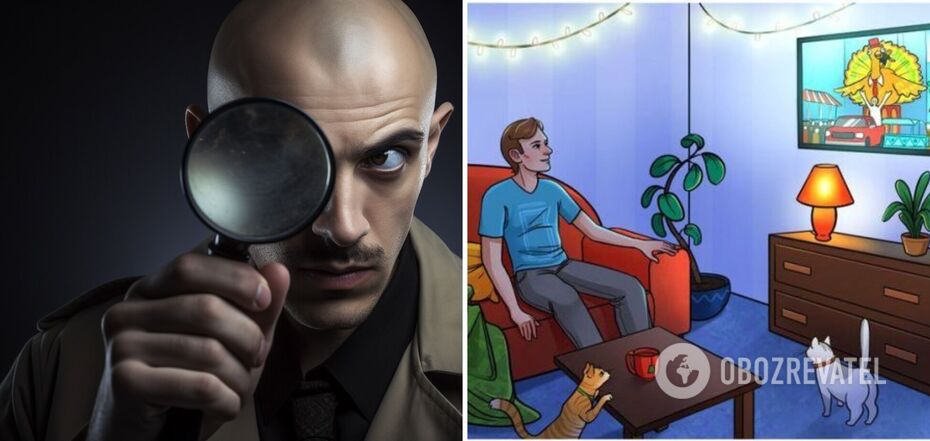 The test puzzle will help to check the level of attention concentration
With the help of tests you can not only have fun and interesting time. Scientists assure: daily brain training will help to reduce the risk of neurological diseases, reduce stress, improve concentration and attentiveness.
An interesting puzzle is gaining popularity in the network. The picture shows a cozy evening atmosphere: a man is sitting on the couch, watching a movie, next to - a blanket, a pillow, two cats and a cup of brewed tea. But something in this picture looks strange. We need to determine what it is as soon as possible.
The test will check cognitive abilities and, as they say online, can even determine the level of IQ. In fact, such puzzles should not be taken literally - professional tests are better suited for determining mental abilities.
Ideally, the mistake in the illustration should be found in the shortest amount of time - about 5 seconds. If you manage to solve the riddle - congratulations, you have excellent eyesight, you have a well-developed logical thinking and quickly notice details. Don't be upset if it took you longer - brain training is useful even if you are not very fast at solving such tasks.
You can turn on "Sherlock Holmes" and start investigating from details to general conclusion. There's a turkey on the screen, and they're probably showing a Thanksgiving Day parade. The country is also not difficult to determine. It is the small steps that will lead to the clue. However, hint: you don't even have to apply analytical skills to answer, the clue "lies on the surface".
The correct answer
There is a table with a cup in the picture. The table has only three legs instead of four. The red striped cat is distracting, so not everyone can find the answer right away.
By the way, MIT professor Shane Frederick has developed the shortest IQ test that will show if 80% of the people on Earth are smarter than you are. You only need to answer three questions.
Earlier OBOZREVATEL published a simple mathematical equation assembled from matches. To solve the problem you need to move one match, and only geniuses can do it in 5 seconds.
Subscribe to OBOZREVATEL channels in Telegram and Viber to keep up to date.