Trending:
Find 13 animals in the picture: a quick IQ test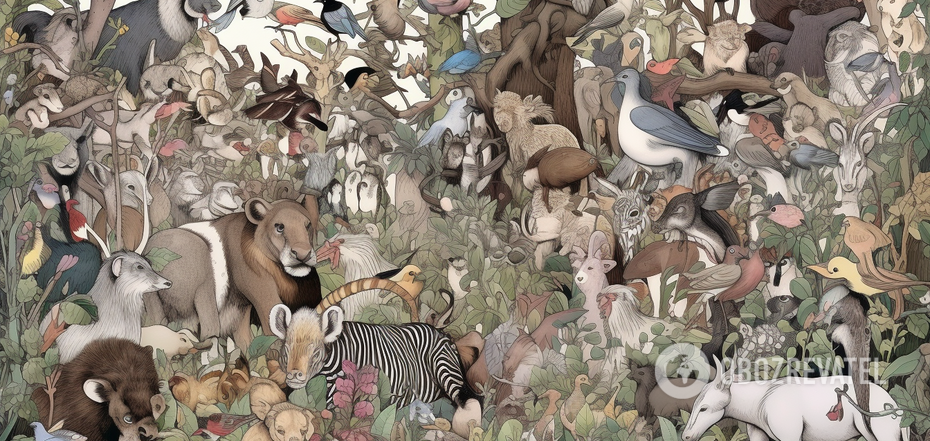 Only the most attentive will be able to solve the puzzle
If you like to train your brain with optical illusions, there is an interesting task for you. It requires attention.
OBOZREVATEL found an image in which you can find 13 animals at once. Those who want a real challenge can set a timer for 20 seconds. If you can do it this quickly, you can be proud of yourself as your brain is working very well. If you can't find the picture, you can find a hint with all the answers at the end of the news.
In general, optical illusions are not only interesting entertainment but they also allow you to train your attentiveness, responsiveness and visual perception skills. Regular training helps to improve brain function and the ability to find solutions to different types of problems.
Optical illusions are based on the principle how our brain processes information. For the sake of saving resources, it overlooks many nuances. It does not disturb us In everyday life, but at the same time we do not notice a lot of interesting details.
Finding a solution to optical illusions may require the person looking at the image to change their approach to the task itself or patterns. In this way, the brain is trained to process visual information in new ways.
Optical illusions can be used to study human perception, cognition and brain function. By understanding how our brains perceive visual information, researchers can learn more about how we experience the world and develop new ways to treat visual and neurological disorders.
What is depicted in the puzzle (hint)
Whether you solved the puzzle in 20 seconds or later, your task is to find 13 different creatures. The correct answer is shown in the picture below. The illusion contains the outlines of an elephant, a mosquito, a donkey, a dog, a snake, a cat, a mouse, a shrimp, a crocodile, a dolphin, a bird's head, a fish and a turtle.
Earlier, OBOZREVATEL published an IQ test containing just three questions that can break standard thinking patterns.
Subscribe to OBOZREVATEL's channels in Telegram, Viber and Threads to keep up with the latest events.