Trending:
Fiat's low-cost electric car received an unexpected modification. Photo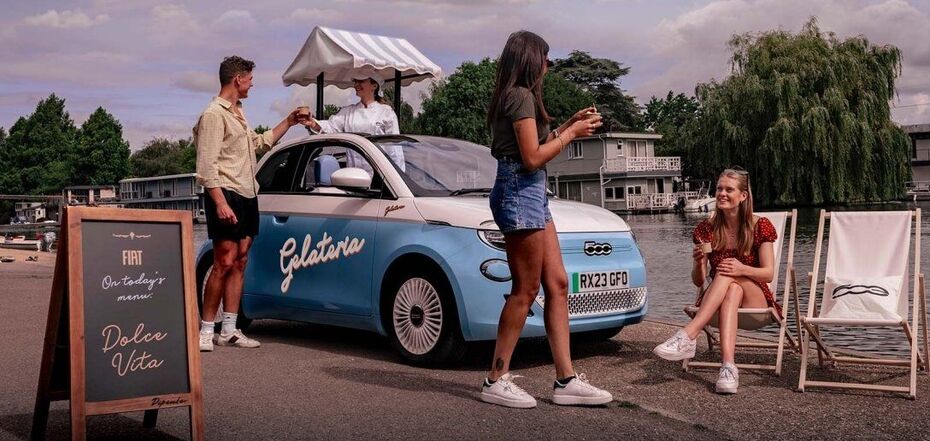 The unusual 500e Gelateria Edition is an ice cream truck. Source: Fiat
The inexpensive Fiat 500e electric car has been transformed and received an unexpected Gelateria Edition modification. This is a van for ice cream, which was created as a replacement for outdated vehicles.
Autocar reports on the unusual car. New restrictions in connection with the creation of clean air zones are introduced in the London boroughs of Camden, Greenwich and Westminster. As a result, old diesel ice cream vans have been banned.
The Fiat 500e Gelateria Edition was the electric answer to this situation. The electric car in a convertible body was re-equipped with special equipment. Instead of rear seats, an ice cream freezer was installed, and a canopy appeared above it.
The car attracts buyers with its operatic sounds and is capable of serving 300 people daily. The already wonderful Fiat 500e looks simply charming. Two-tone body painting in pastel colors, white wheels and inscriptions in retro style: all this means the designers have done a great job.
So far, the Fiat 500e Gelateria Edition exists in a single copy. It is not known whether these special cars will become mass-produced. However, it is planned to demonstrate how this car works shortly.
OBOZREVATEL previously reported on the next generation of an affordable Nissan Leaf.