Trending:
Fans of crab sticks will be in shock: the network showed what the popular product is made of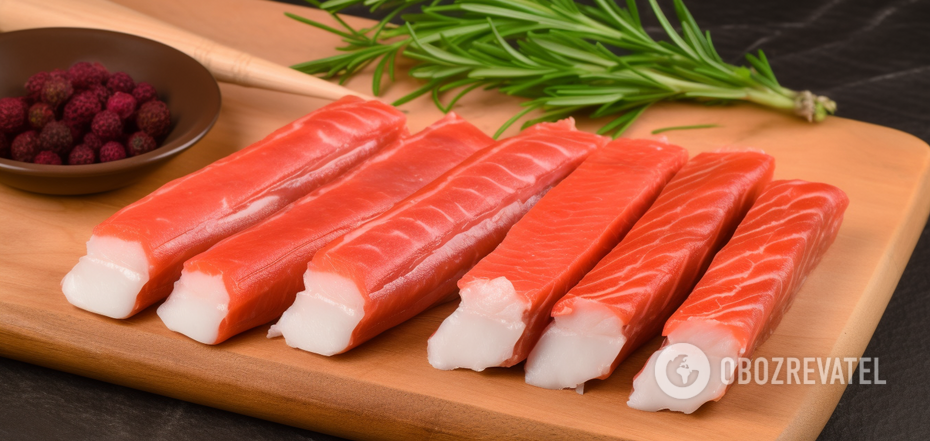 The process of making crab sticks turned out to be unappetizing in appearance.
Crab sticks are a very popular appetizer. They are appreciated for their pleasant light flavor and high protein content, which allows you to get full quickly. But a recent video published on the Internet seems to seriously undermine the reputation of this product.
The clip appeared on the Reddit website and subsequently went viral on various social networks. It shows the process of making crab sticks. (To watch the video, scroll to the end of the news story)
The footage of the popular snack was filmed at a large factory in Thailand, where crab sticks are made. The sight was so unappetizing that it caused a strong reaction of commentators.
The process of making crab sticks begins with the loading of grayish briquettes into the chopping machine. These are chopped and frozen fillets of inexpensive white fish, mainly pollock - this product is called surimi. Then the resulting mass falls into the next machine, where other ingredients are added to it, including salt and egg white.
At the next stage, vegetable oil and sugar are added to the mixture for sticks. Next, the resulting product is whipped to a homogeneous mass. And here it begins to look very unappetizing. Out comes a gray paste of jelly-like consistency. And already from this paste, strips are formed, which are twisted in layers and cut. The resulting layers should imitate the consistency of natural crab.
The snack manufacturing process is completed when the product is coated with an orange-red dye imitating the color of crab meat and packed in film. They are then frozen and put into a commercial package in which they will be shipped to supermarkets around the world.
What they saw did not enthuse Reddit users. They called the crab sticks "sea hot dogs," and many said they would never buy the snack again.
Earlier, OBOZREVATEL showed what sausage was actually made of in the USSR and debunked the myth about GOSTs.
Subscribe to OBOZREVATEL channels in Telegram, Viber and Threads to be aware of the latest events.