Trending:
Experts explain how to plant flower bulbs in the fall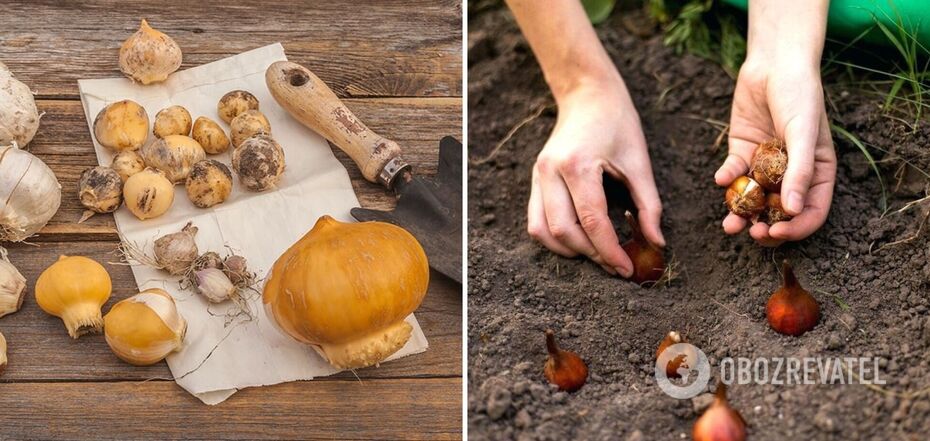 How to plant flower bulbs in the fall
In the fall, gardeners devote a lot of time to harvest the crops on time and prepare the land for the next season. If you want your yard to be decorated with beautiful flowers in the spring, you need to plant bulbs now.
OBOZ.UA has collected professional tips to help you do this. It is necessary to create favorable conditions for the flowers to overwinter and bloom profusely next year.
Location
Choose a sunny and windless location so that the bulbous flowers can quickly adapt to the site. Avoid locations that are too humid and shady as this can lead to bulb rotting.
Soil
Fertilize the soil with compost and humus, but not fresh compost as it is too concentrated for the plants. The soil should be loose and well-drained.
Flowers
Choose bulbs without damage or signs of disease. Clean them of soil and old roots. To prevent various diseases and pests, treat the bulbs with a solution of potassium permanganate or fungicide.
Planting
Maintain the correct depth and spacing of the bulbs. It all depends on the variety of flowers and the size of the bulbs. The hole should be about 15-16 centimeters deep and the distance between the bulbs should be 25-30 centimeters.
Care
After planting bulbous flowers, you need to take care of them until winter. Keep the soil moist, loosen it from time to time, and remove all weeds. If necessary, fertilize the flowers with a weak solution of complex fertilizer.
Mulch the soil. Cover the beds with sawdust, straw, or leaves to protect them from severe frosts and rodents.
Earlier, OBOZ.UA published a list of unpretentious flowers that can withstand the cold and can be planted in the fall.
Subscribe to OBOZ.UA on Telegram and Viber to keep up with the latest events.