Trending:
Exact day when Ukrainians will see the only Blue Moon of the year at the end of August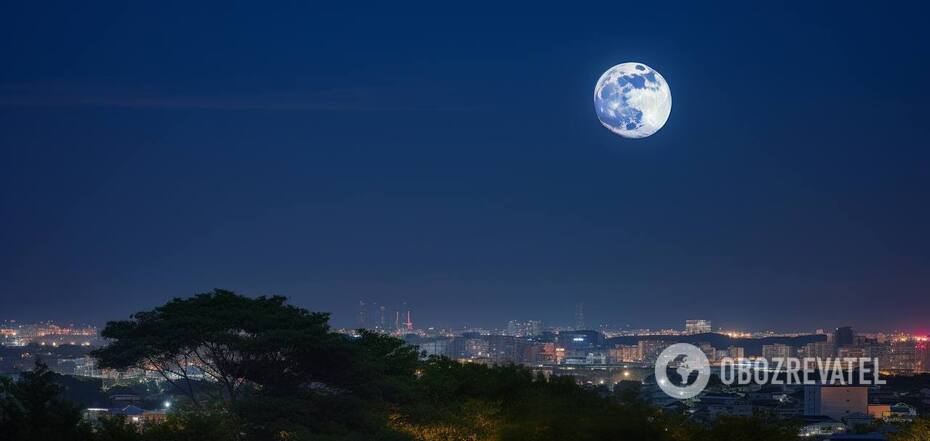 Blue Moon in August
A unique phenomenon will be seen in the sky on the night from August 29 to 30. It is called The Blue Moon. According to NASA, the third full moon of the season will be the brightest event of the summer.
Blue Moon is also a super moon, that is, it coincides with the perigee, the closest point of Earth's orbit. Space shared more details.
Why the Moon is called Blue
The historical origin of the term is shrouded in mystery and many misinterpretations. The moon does not become blue in the literal sense, although sometimes you can observe a barely noticeable shade. This is due to reflected light passing through the Earth's atmosphere.
There is a famous idiom in the English language. "Once in a Blue Moon" is used when referring to a very rare event. Scientists say that a Blue Moon occurs once every 2-3 years.
There is also the phenomenon of a double Blue Moon. February has fewer days in the year, and some periods have no full moons at all. February without a full moon occurs when Blue Moons appear in January or March. This phenomenon, known as a Double Blue Moon, is quite rare and only happens three to five times per century. The Double Blue Moon was in 2018, and we won't see it again until 2037.
When you can observe a Blue Supermoon
The Blue Supermoon will appear to observers from Earth slightly larger than usual (by about 7%). This difference in size will probably not be noticeable to the naked eye.
In addition to the Blue Moon, the gas giant Saturn will be visible in the sky. The planet will be passing opposition for a few days, which is the point at which it is directly opposite to the Sun when viewed from Earth.
Saturn will be especially bright in the night sky. It will be visible when looking at the Aquarius constellation, above and to the right of the Moon. However, Saturn can be seen looking below the Moon from the southern hemisphere.
The Blue Moon was last observed in August 2021, and the next one is expected in August 2024.
By the way, an incredible meteor shower was recently observed in the evening sky. It was caused by debris left in the inner solar system by the 109P/Swift-Tuttle comet. To know what are meteor streams, read the material.
Earlier OBOZREVATEL shared that the NASA telescope discovered an intriguing detail about the most distant of the seen stars in the universe.
Subscribe to OBOZREVATEL channels on Telegram and Viber to be aware of the latest events.