Trending:
Elephant cemetery found in the U.S., which is 6 million years old: how it was formed. photos and video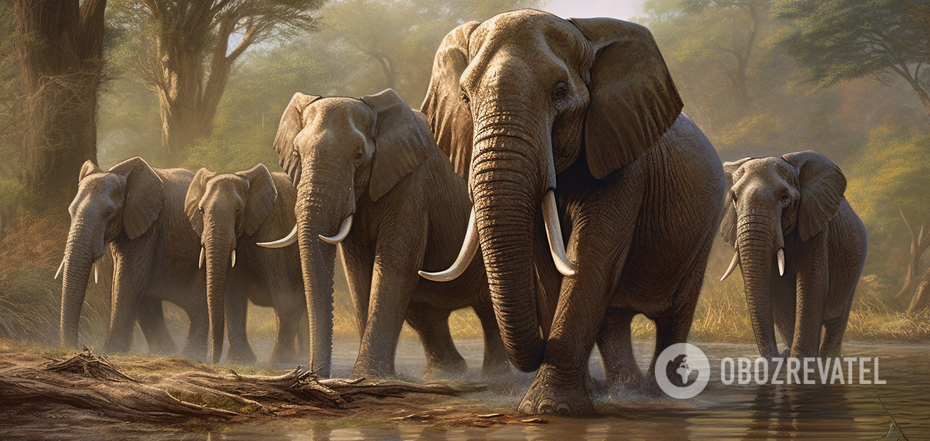 Ancient elephants. Illustrative photo
One of the oldest cemeteries known to mankind - it is almost 6 million years old - has been found in the United States. The impressive discovery was made by paleontological scientists and volunteers from the Florida Museum of Natural History. The search along the dried-up river mouth was a success: the researchers unearthed an incredible collection of bones of ancient elephant ancestors that inhabited the area from 23 million to 5.4 million years ago.
The ancestors of modern elephants are called gomphoters. Scientists still do not have an answer to the question: how did it happen that such a huge number of gomphoters appeared in one place along the river near the modern city of Montbrook? More about the archaeological find told the publication Ancient Origins.
Prehistoric cemetery
There is a theory that some unique natural phenomenon created this "elephant cemetery. In addition to a large number of fossilized skeletal remains, it was possible to excavate several nearly unharmed skeletons of adults. Paleontologists had a unique opportunity to thoroughly study the anatomy of ancient elephants.
Jonathan Bloch, excavation manager and curator of vertebrate paleontology at the Florida Museum of Natural History, stressed that this is a once-in-a-lifetime find.
"It is the most complete gomphoter skeleton of that period in Florida and one of the best in North America," he said.
Excavations at Montbrook began in 2022. The area was chosen for a reason - millions of years ago, the dead river was a thriving freshwater ecosystem that was home to many fish, reptiles and waterfowl. Large mammals used to come there to drink water.
Dean Warner, a volunteer and former chemistry teacher, now retired, was the first to stumble upon the remains of the gomphoter. Soon the skeleton of an adult was found, and afterwards the finds were so numerous that it became clear that the expedition had discovered a prehistoric cemetery.
What did gomphoters look like and what is the mystery of the cemetery
The size of gomphoters can be compared to that of modern elephants. They were about 2.4 meters tall, and their skull and tusks were about 2.7 meters long.
Hypotheses about the origin of the prehistoric cemetery have already been put forward a lot. Some say that elephants as if they came to the riverbank, choosing the place of death. Perhaps old and sick elephants preferred to rest by the water.
Most paleontologists believe that the bodies of homopterans were brought ashore in a bend in the river during floods, aided by the terrain.
Earlier OBOZREVATEL also told that in Britain found the DNA of a plague that raged 4,000 years ago
Subscribe to the channels of OBOZREVATEL in Telegram and Viber to keep up with the latest developments.