Trending:
Eight mistakes tourists make when traveling by air: flight attendant tells what many people do wrong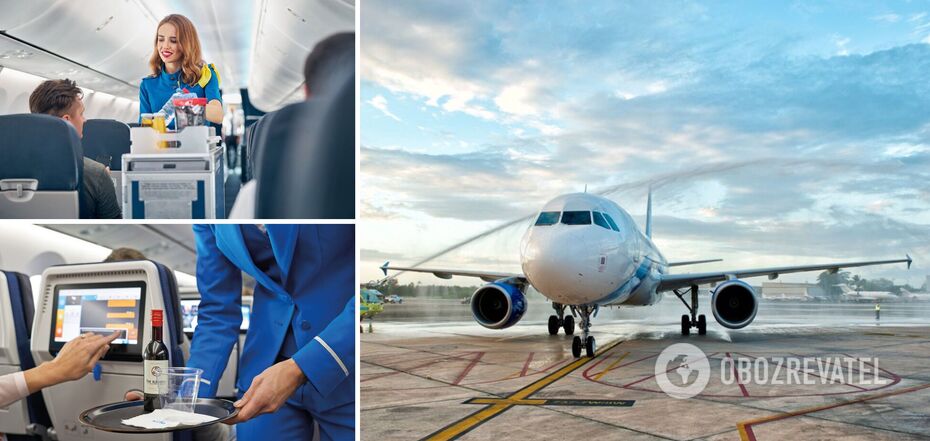 Mistakes of tourists when traveling by plane
Airline rules and regulations are designed to ensure the comfort and safety of everyone on board. However, travelers on an airplane also have certain responsibilities. These are unspoken rules that should be adhered to in order not to cause inconvenience to other passengers and crew members.
However, not all tourists observe these "laws" while in the sky. Flight attendants told LifeSavvy about what mistakes of passengers they most often have to meet at work.
Going to the toilet while boarding an airplane
Using the restroom on an airplane during boarding is one of the main reasons for slowing down the boarding procedure, says Krista Thatch, who has been a flight attendant for 15 years. If you go to the restroom while passengers are still boarding the plane, everyone has to wait for you to get back to your seat by walking in the opposite direction. That said, flight attendants are not allowed to close the door to the plane while someone is in the restroom, so if you take your time, you could delay your flight. Krista recommends going to the restroom at the airport beforehand.
Taking off your shoes
One of the most common travel mistakes that Kathy, a flight attendant with eight years of experience, encounters is taking off her shoes on the plane. First of all, if you're not wearing clean socks, you're inconveniencing your neighbors. Someone might be sensitive to the unpleasant odors of your feet. Secondly, it's unhygienic. The risk of catching fungal infections, especially if you go to the toilet without shoes, is very high.
Do not bring essentials with you
Flight attendants do their best to help you feel comfortable, but there are only a few resources at their disposal. Krista shared that travelers sometimes ask her for things like milk, lunches, and some items that just aren't provided on certain flights or on the plane in general. The flight attendant recommends packing everything you might need on the flight and not relying on your needs for material items to be met on board.
Overload your carry-on luggage
Krista shared that she constantly sees people trying to bring as much stuff as possible on a flight. While she understands the desire to save money on baggage fees, she also believes that many travelers make life difficult for themselves by doing so. If you want to avoid checking a suitcase, make sure you know your airline's baggage policy. Most only allow carry-on bags and personal items on board, and won't let you on the plane if you have more than two bags. Some airlines also set weight and size limits for carry-on luggage.
Unprepared entertainment
Flight attendants share that sometimes inexperienced travelers ask them why movies on their phones don't play during the flight. In most cases, the reason is that they have not downloaded the media files to their devices and cannot play them without high speed internet. To avoid this problem, before flying make sure that the music or video files on your gadget will play without internet access. Also check that your phone or tablet has enough charge, as not all airplanes have chargers.
Drinking too much
Some airlines offer passengers free alcoholic drinks on board. Sometimes, however, tourists sometimes manage to eliminate sobriety on their own before boarding or already on board the airplane. Many people do not realize or do not know that at high altitude / lack of oxygen you can get intoxicated very quickly - one drink on the ground turns into two or even three in the air. Try to control yourself. The consequences can be different. Here and conflict with neighbors, and poor health, and much more.
Purchasing seats separately from each other.
It may not always be possible for family members or groups of friends to buy seats together, but you can always ask the flight attendant before boarding if you and your group can be moved closer together. However, if you are trying to save money by not paying for your own seats or buying tickets where there is no seat selection option, accept that you may not be able to sit together and don't make a fuss on board.
Run for the gate immediately after landing
It seems like on every flight there is always someone who jumps up as soon as the plane lands, grabs their stuff and runs for the exit. First of all, cutting off everyone ahead of them is just plain rude. "Having good manners is very important. Besides, the boarding process goes much faster if everyone waits their turn," the flight attendants point out. If you are in a hurry, for example, to transfer to the next flight, let the flight attendants know in advance. They are usually happy to make an announcement, asking other passengers to let you through first.
Earlier, OBOZREVATEL wrote about the travel lifehacks that will allow you to fully immerse yourself in a new atmosphere. Guidebooks most often offer places that lack real color, and as a result you learn a new area superficially.
Only verified information we have in our Telegram channel Obozrevatel, Threads and Viber. Do not fall for fakes!