Trending:
Effective tips for washing feather pillows at home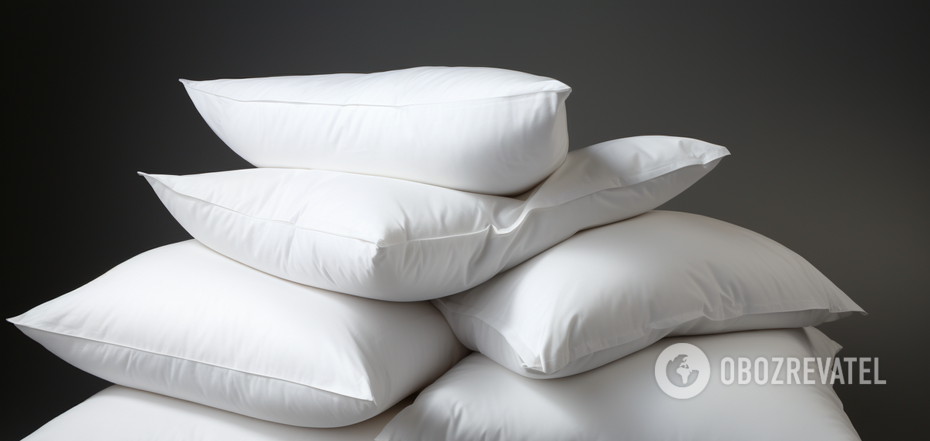 How to wash feather pillows
Feather pillows quickly accumulate dust, sweat, and dirt, so you need to wash them regularly. If you don't wash them, mites can get inside, leading to a number of diseases, including dermatological ones.
Sleeping on a dirty pillow is dangerous to your health. OBOZ.UA tells you how to wash feather pillows and whether it is possible to refresh the feathers without washing them.
How to machine wash a pillow

Experts advise trying a life hack with tennis balls. You can also purchase a specially designed ball for washing feather pillows and down products. This will help prevent the filling from getting stuck.
If the filling is very dense and does not allow water to pass through, it is recommended to soak the pillow by hand before washing it in the machine.
A worn-out pressure plate can tear, which can lead to unpleasant consequences like machine filter clogging. If the cap is too old, it is better to be safe and put another one with a zipper on top.
Don't run the wash cycle at too high a temperature. No more than 40 degrees is optimal.
It is better to choose a gel detergent rather than a powder. This way the feathers will be washed better.
A large pillow will have to be washed in stages, tearing the pressure plate, removing the filler, and distributing it in special washing bags. Wash the feathers with a delicate cycle and an additional rinse. Dry the feathers in a warm, well-ventilated room.
How to refresh pillows without washing
A steam cleaner or iron can help you freshen up your pillow without washing it in the machine. Simply hang the pillow and run the steam over the entire surface, preferably twice. The pillow should then be thoroughly dried.
Earlier, OBOZ.UA shared how to clean a travel pillow.
Subscribe to OBOZ.UA on Telegram and Viber to keep up with the latest events.