Trending:
Dream vacation in Sri Lanka: how to get there, prices, best resorts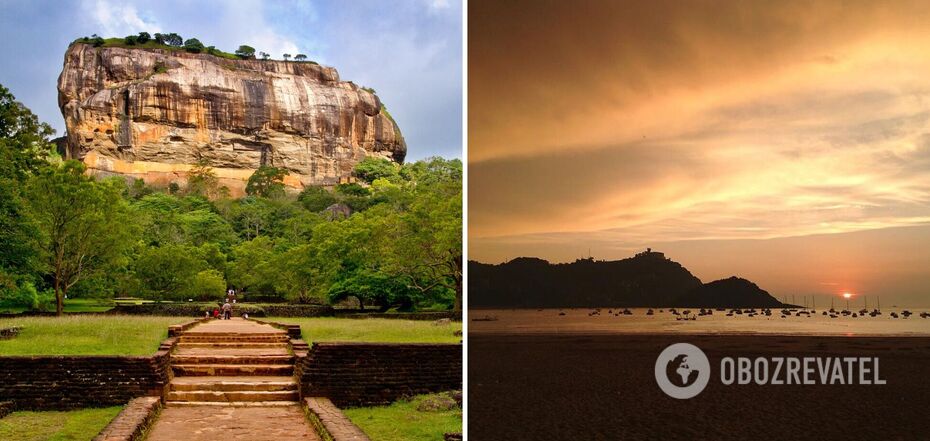 Important information about Sri Lanka vacations
Sri Lanka is a stunning island in the Indian Ocean, known for its unusual culture, majestic temples, striking nature and sandy beaches. If you are looking for a place to relax and enjoy, this country is ideal.
Rules of Entry
Ukrainians with a biometric or ordinary passport can apply for a 30-day visa upon arrival on the island. In order to do this, you should obtain a permit online in advance. If you decide to stay in Sri Lanka for a longer period, you will have an additional 6 months at your disposal.
What you should have with you:
Ukrainian passport (biometric or regular);
A copy of the first page of your passport;
Return ticket or ticket to another country;
Accommodation booking in Sri Lanka;
medical insurance.
The best way to get to Sri Lanka is obviously by plane. Bandaranaike International Airport, near Colombo, is the main air gateway of the country and receives flights from all over the world. Be prepared that the flight will take from 8 to 15 hours.
Weather and best time to visit
Sri Lanka has a tropical climate with two monsoon seasons. From December to March, the island has a high tourist season, when the weather is favorable for beach holidays. The temperature usually ranges from 27°C to 32°C and there is almost no rainfall. From July to September it rains, but in short showers. This period may be less popular with tourists.
Tourist Destinations
Here are a few of the main resort towns to visit on your trip to Sri Lanka.
The capital of Sri Lanka. Here you can enjoy modern skyscrapers, visit shopping centers, museums and cultural heritage sites. It is also worth getting to Galle Pier, which offers a magnificent view of the ocean.
It is a popular resort town located near Bandaranaike Airport and 40 kilometers from Colombo. Large beaches, luxury hotels and popular attractions await you. A few centuries ago, Negombo was known for the wild cinnamon that grew everywhere. It was rightly considered one of the best in the world. Many merchants would anchor in the harbor to acquire this spice. Now the resort mostly attracts tourists who want to walk its long sandy beaches. It is also home to a nationally famous fish market.
It is the second largest city, after Colombo. It is home to the Sri Dalada Maligawa Temple (or Temple of the Buddha's Tooth), considered a shrine to Buddhists. Many buildings stand on the slopes of the cliffs, which gives the local architecture a special charm. Among the slopes you can see the water surface of man-made lake. It appeared under the last king of Sri Lanka. It is a wonderful place for those who are looking for harmony and tranquility.
Galle is a port city in the west of Sri Lanka and an architectural landmark from the colonization period. Here you will find a well-preserved 17th century Dutch fort. One of the tallest local buildings is the 27-meter lighthouse. It offers a picturesque view. Let's make it clear right away: there are no beaches here. If you want to lie in the sun by the ocean, you have to go to the town of Unawatuna. It's only five kilometers away from Galle.
Romantic people will love the town of Bentota. It is especially popular with couples in love and married couples. Here is the Confifi Marina, the largest water sports center in the country. You can choose from surfing, water skiing, catamaran, canoe, banana or scooter.
A popular vacation spot for surfers. They come from all over the world to shoot big waves on Hikkaduwa and Narigama beaches. If you haven't tried boarding yet or want to improve your skills, there are plenty of schools in the area that will be happy to teach you. At night it's worth checking out one of the bars, where there's always a buzz of life.
These are just a few of the attractions in Sri Lanka. The country also offers magnificent national parks, cultural attractions, spas and other attractions worth visiting.
How to choose a hotel in Sri Lanka
Here are some criteria that can help you in the process of choosing a hotel:
location (beach area, city center or quiet surroundings);
your budget;
reviews and rating;
availability of convenient infrastructure.
The price of hotels in Sri Lanka varies greatly depending on location, class and seasonality.
In budget hotels and guest houses, room rates can start from $30-50 per night for a standard room. Basic amenities such as fans, a shared bathroom, and simple services are provided.
Mid-range hotels provide more comfort and convenience. The room rate here is about $70 to $150 per night. Guests have their own bathroom, air conditioning, and access to a restaurant and pool.
Expensive hotels in Sri Lanka offer a high level of service, luxurious rooms and a variety of entertainment. Prices can start at $200 per night.
Food
Sri Lanka has a rich culinary tradition, which is revealed by the local flavors and aromas. Here are a few popular delicacies that you can try during your journey through the country.
Curry rice is the national dish. It's not hard to guess that it includes cooked rice and different kinds of curries, from meat and fish to vegetables. The delicacy can be spicy or not: depending on your wishes.
Hoppers are thin pancakes made of rice dough, coconut milk, and yeast. They can be sweet or savory, and range from traditional to nautical versions.
Cotti is a flavorful rice bread that is often served with meat or fish, as well as cheese and eggs. The dish can have different toppings and is a popular Sri Lankan fast food.
Roti are thin flatbreads made from wheat dough and are often served with curry or other sauces. The dish can also be made with different additives, such as potatoes, onions, or herbs.
Sri Lanka is famous for its juicy tropical fruits. Mostly mango, pineapple, papaya, lychee and bananas. Do not forget to try them.
As for the cost of food, it can vary from place to place. In mid-priced restaurants, it will range from 300 to 800 Lanka rupees (about $2-5). In the premium establishments, the prices are much higher.
Total Trip Budget
The budget for a 7-day trip to Sri Lanka can vary depending on your lifestyle, preferences, and chosen level of comfort. Approximate rates will be as follows:
Flight - $600 to $1500 (depending on the country of departure);
Accommodation - from $200 to $700;
Food - $150-300;
transportation - $ 100-300.
OBOZREVATEL previously told what you need to know about a holiday in the Dominican Republic.
Only verified information on our Telegram-channel Obozrevatel and Viber. Do not be fooled by fakes!