Trending:
Do it now and forget it: how to plant radishes in the garden before winter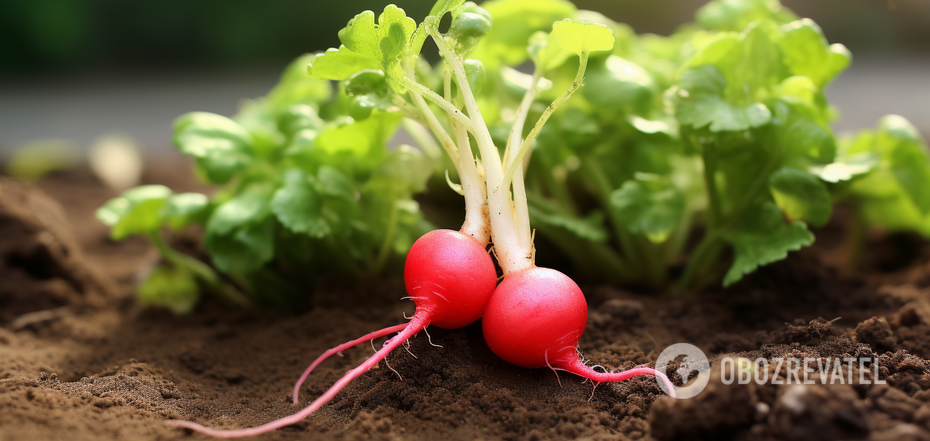 Radishes will sprout on their own in spring if sown correctly in autumn
Radish is perhaps the first vegetable to ripen in the garden after the start of the season. But its germination and, accordingly, ripening can be accelerated.
OBOZREVATEL asked professional gardeners for their advice on this matter. It turns out that this crop can be planted before winter. Then it will sprout in the spring as soon as the conditions are right.
You need to prepare the bed for radishes before the cold weather sets in and night frosts begin. To make the soil suitable for sowing radishes, you need to enrich it with nutrients and improve its quality. To do this, it is best to use humus and wood ash. They are scattered over the surface of the bed, and then the soil is dug up. This makes the soil loose, permeable to water and air, and enriched with the nutrients necessary for plants.
To properly form the holes for radishes, you can use cardboard egg trays. Press the required number of trays into the ground so that they are completely buried and cover the bed with plastic wrap. Leave it in this state until November. During this time, the soil will acquire the necessary properties.
When the top layer of soil freezes towards the end of autumn, lift the film and add radish seeds to each hole. Cover each seed with earth and leave it to winter in this state.
Radishes sown in this way will germinate by themselves in March. And you can harvest the first crop in April.
Earlier, OBOZREVATEL told you how to properly prepare a garden bed for planting onions for the winter.
Subscribe to OBOZREVATEL 's Telegram and Viber channels to keep up with the latest developments.