Trending:
Do it after rain: a trick that will double your potato harvest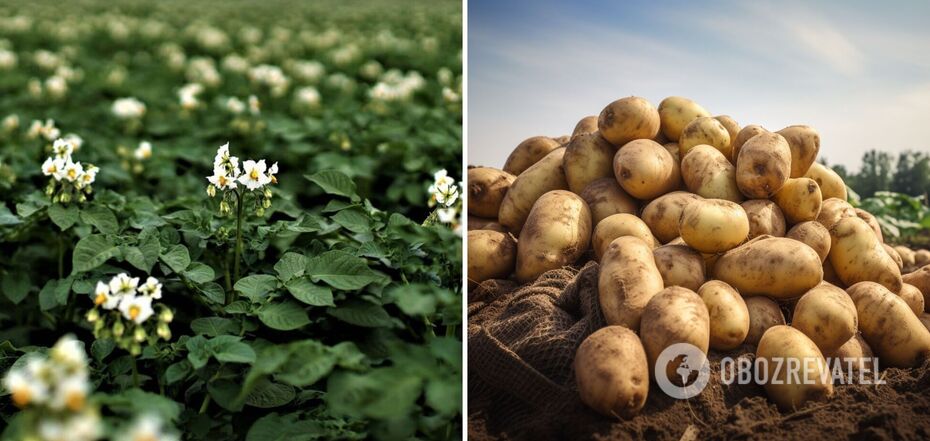 Timely perching of potato bushes has a good effect on yields
Experienced gardeners know that a period of heavy rainfall is an excellent time to increase potato yields. The plant is able to lay more tubers and grow large and healthy.
As OBOZREVATEL found out, in order to take advantage of rainy weather for growing potatoes, you need to perform only one procedure. It will be discussed further. If you do everything correctly, the harvest can appear even twice as much as usual.
What to do with potatoes after rain
To form good tubers, the plant needs a good layer of moist and loose soil. Therefore, potatoes will benefit greatly from perching the bushes in wet weather.
An increased layer of earth, welded to the bottom will help the plant to form additional stems. Accordingly, the root system will also get stronger. This is the part of the potato where the crop develops, that is why it is so important to perch potato beds after rain.
If there is no rain for a long time
What to do if the summer turned out to be dry and there is no precipitation necessary for the plant for several weeks? In this case, you will have to water it regularly on your own. It will harvest poorly in dry soil and the tubers will be small and poor in nutrients.
Shed rows of bushes can be watered with a watering can or hose. The main thing is not to spare water for potatoes. After watering is completed, it will be necessary to carry out perching of plants. In this case, the culture will also give a good harvest, which will have an excellent taste and will be preserved for a long time.
When the stems begin to dry up and lie on the ground, perching can be stopped even in rainy weather. At this time, the plant is already considered mature and new tubers will no longer develop. At this time, you need to let the potato grow to the necessary condition and dig it up in time. To know how to tell that it is time to dig potatoes and put them in storage, visit the link.
Earlier OBOZREVATEL told how to significantly increase the harvest of aubergines.
Subscribe to OBOZREVATEL channels in Telegram, Viber and Threads to be aware of the latest events.