Trending:
Could have known about Prigozhin's plans for a riot: Surovikin is questioned in Moscow but not charged - WSJ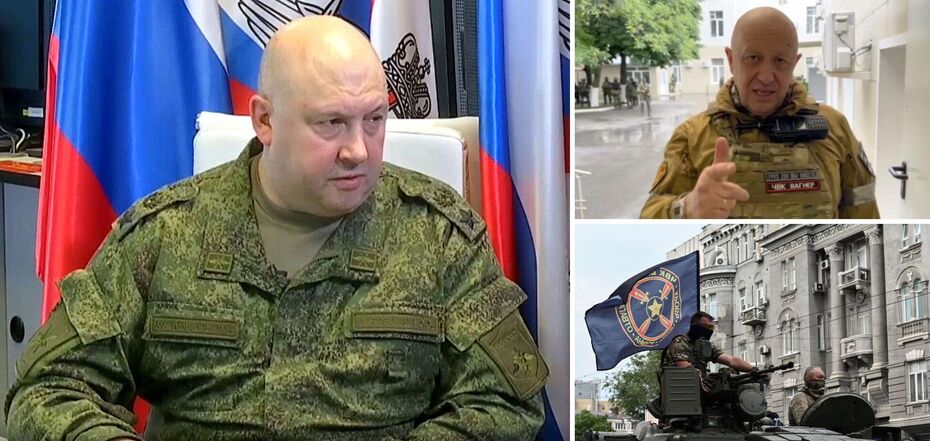 General Surovikin is detained and interrogated in Moscow after Wagner's riot
The Commander-in-Chief of the Russian Aerospace Forces, General Sergei Surovikin, known as General Armageddon, is being held and interrogated in Moscow, a nickname he received for the bombing campaigns he conducted in Syria. He was detained after the "mutiny" of Wagner PMC leader Prigozhin began, but Surovikin has not yet been charged.
This was reported by the American edition of The Wall Street Journal, citing anonymous sources. It is noted that in addition to Surovikin, other Russian military leaders were detained, suspended or dismissed.
According to sources familiar with the situation, a few hours after the start of the "march on Moscow" of the Wagner terrorist PMC, the FSB detained several Russian high-ranking military officials. General Surovikin was among the detainees.
He is allegedly being held and interrogated in Moscow, but has not been charged with a crime.
According to one of the newspaper's sources, Surovikin allegedly knew about the plans for the 'rebellion', although he was not involved in it.
It is noted that the Kremlin's efforts to weed out officers suspected of disloyalty are much wider than the general public knows. According to the publication's sources, at least 13 senior officers have been detained for questioning. Another 15 have been suspended or dismissed.
"These detentions are aimed at cleansing the ranks of those who are believed to be no longer trustworthy," the source said.
It is alleged that Surovikin was not held in a pre-trial detention centre. However, he was interrogated repeatedly as investigators were looking into his role in Prigozhin's rebellion.
Sources said that Surovikin may be released when Putin finally decides how to deal with the consequences of the 'mutiny'.
In addition to Surovikin, his deputy, Colonel-General Andrey Yudin, and the deputy head of military intelligence, Lieutenant-General Vladimir Alekseev, were allegedly detained.
Both officers were later released, but they were suspended from duty, with restrictions on their movements and under surveillance, one of the sources said.
It is noted that Alekseev had "long-standing ties with Wagner". However, at the very beginning of the "mutiny", he took part in the recording of a video in which he called on the militants to stop.
Other detainees include former Colonel-General Mikhail Mizintsev, who previously served as Deputy Defence Minister and joined Prigozhin's militants in late April.
As OBOZREVATEL previously reported, Russian human rights activist Vladimir Osechkin said that Surovikin and First Deputy Chief of the Russian General Staff Vladimir Alekseev were not only aware of Prigozhin's preparation of an armed rebellion but also contributed to its implementation.
According to him, the rebellion had been prepared for more than 8 months, and Surovikin and Alekseev gave verbal commands to Russian army units not to resist the 'Wagnerians'. According to Osechkin, criminal cases have already been opened in Russia against the military who supported Prigozhin.
Later, the NYT also reported that Surovikin knew that Prigozhin was preparing a rebellion, citing sources in US intelligence.
Only verified information is available in our Obozrevatel Telegram channel and Viber. Do not fall for fakes!