Trending:
Collapse of Putin's regime will be chaotic, and opposition will watch helplessly from the sidelines - Politico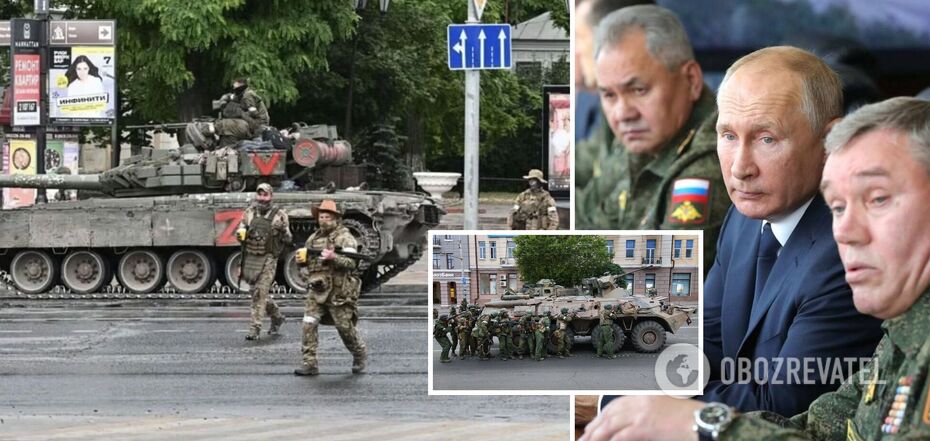 Politico reports on the results of Prigozhin's rebellion
The failed military coup in Russia led by the owner of the Wagner PMC, Yevgeny Prigozhin, did bring one important result. It showed the fragility of Russian dictator Vladimir Putin's power and the possibility of his regime's fall.
Politico wrote about this, noting that the collapse of the Russian president's regime would be chaotic and violent. And all that the Russian opposition is likely to be able to do is to watch from the sidelines.
The publication notes that, although the coup d'état was not completed, Putin clearly lost in this case. After Prigozhin stopped his offensive against Moscow, criticism came from both propagandists and ordinary Russians.
"Now the country and the world know that it is possible to rebel against Putin," said Russian businessman and opposition leader Mikhail Khodorkovsky.
If a coup does indeed take place in Russia, the opposition, most of whom are now in exile, will hardly be able to influence events in Russia, no matter how much they prepare for the fall of the authoritarian regime.
Another problem may be that there is no unity among the Russian opposition, with some groups even at odds with each other - the same was true during the 1917 revolution.
"Thanks to Wagner - they have shown that everything is possible in Russia, and the regime is weakening. Greetings to all the oppositionists who have not yet realised," said oppositionist Ilya Ponomarev.
Other Russian opposition leaders are now sceptical, being too cautious, Ponomaryov said.
"When the final collapse comes, it will most likely be chaotic and violent. The country's most influential power brokers are unlikely to give up their power, privileges and wealth easily and without a fight. And the best case scenario is probably one in which they negotiate with each other behind the scenes and resolve the situation, possibly with Prime Minister Mikhail Mishustin as the nominal head," Politico writes.
It is worth noting that self-proclaimed President of Belarus Alexander Lukashenko has already started talking about the collapse of Russia. At the same time, he complained that the West is trying to mislead him, and NATO is "showing strength".
As OBOZREVATEL previously reported:
- On 26 June, after a day of absence from public space, Putin addressed Russians and condemned Prigozhin's mutiny. The dictator addressed another address to the Russian military and said that the pilots shot down by the Wagnerites had done their duty.
- In response, the Russians threw a tantrum over Putin's words about the pilots shot down by the Wagnerites and called it a circus.
Only verified information is available in our Obozrevatel Telegram channel and Viber. Do not fall for fakes!