Trending:
China cuts off supply of drones to Russia, shortage of components begins - media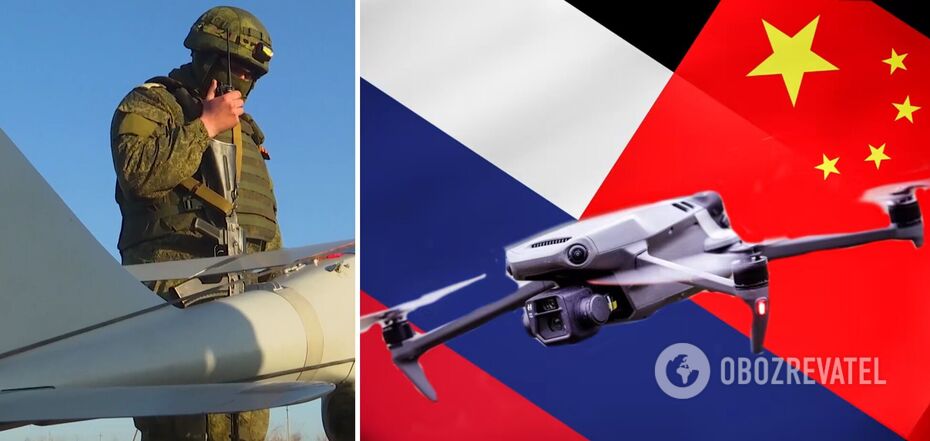 China has cut off the supply of drones to Russia - media
On September 1, China's Ministry of Commerce introduced export controls on high-performance unmanned aerial vehicles (UAVs) that can be used for military purposes. This has allegedly led to a shortage of drones and their components in Russia.
The ban was recognized by Russian propaganda resources, which also pointed out that sellers of Chinese drones in Russia also complain about neighboring Kazakhstan, which has recently tightened import procedures. This is stated in the article of the English and Russian-language newspaper The Moscow Times.
It is noted that the aggressor country has stopped supplying drones weighing 4 kg or more or with a maximum takeoff weight of 7 kg with a flight duration of more than 30 minutes. In addition, UAVs capable of "carrying a load with a drop function" or "with the ability to fix such a device" were banned.
Beijing has also restricted the supply of components to Moscow, including multi- and hyperspectral cameras for drones, powerful onboard radio equipment, infrared cameras, thermal imagers, laser rangefinding and positioning modules.
According to the requirements, in order to transport this equipment to Russia, Chinese suppliers must obtain a license from the Ministry of Commerce of the People's Republic of China and a permit from the customs service, providing information about the final recipient.
At the same time, the Chinese Ministry of Commerce will check each recipient for its presence on sanctions lists "related to military activities or actions undesirable to China," and will demand financial reports and corporate documents.
"Chinese exporters will face administrative liability for violating the license requirements, and criminal liability in case of intentional violation," the statement said.
Russian market participants complained that the Chinese government's ban on the supply of drones for military purposes has actually "led to the cessation of supplies to Russia even of products that are not subject to the restrictions imposed."
"Ten major retailers of agricultural, monitoring and industrial drones, including Paragraf, Spb-geon, RusGeoCom, IQmac, are running out of stocks. Some models are left in limited quantities, and prices have doubled. For example, DJI and XAG agrodrones, which are popular in Russia, have doubled in price," the publication quoted the propagandists as saying.
They also noted that until recently, Russians managed to import certain models of drones through Kazakhstan, but now suppliers from the neighboring country have announced that they have stopped shipments due to "tighter control over dual-use goods."
RuDrones CEO Dmitry Datsikov said that before the ban came into effect, retailers "exported everything they could in bulk." Now, Russia's stocks of drones and components are supposedly "enough for one or two quarters."
As reported by OBOZREVATEL, a recent investigation by OSINT analysts at Molfar Agency shows that the Chinese company iFlight, which owns the manufacturer of DJI drones, continues to supply drones to Russia. The manufacturer's statement to the contrary is true only for the Ukrainian market of imported drones, as China continues to send them to Russia under the guise of various schemes.
Only verified information is available on our Obozrevatel Telegram channel and Viber. Don't fall for fakes!