Trending:
Can you eat and drink in transport and shops: rules of etiquette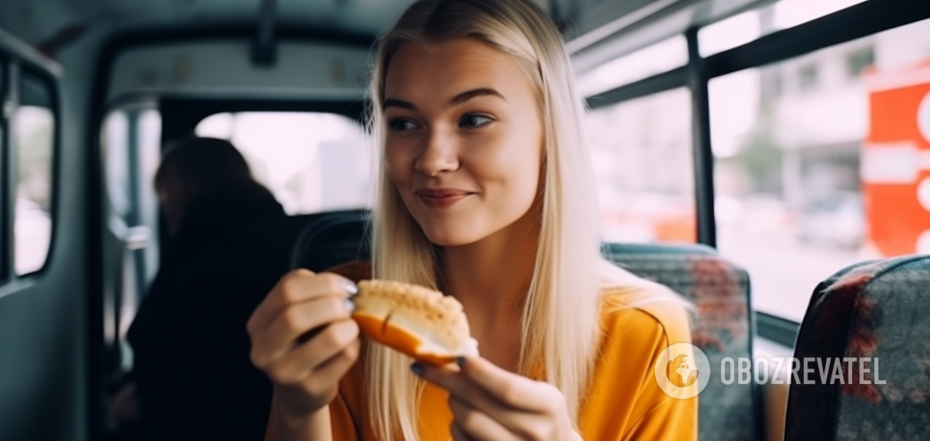 Eating in public can be very disruptive to other people's boundaries
In the heat of the day, you always want to have a bottle of water or ice cream on hand to cool off. But not all places are appropriate for you to bring food and drink. Even though the street food culture is developing very rapidly and chewing something in public is no longer considered bad manners.
Some dishes can spoil someone's clothes or contaminate the room. That's why OBOZREVATEL talks about the rules of etiquette related to food and drink in public places.
Be aware of the smell
Many dishes have a pronounced smell that can be unpleasant to others. Remember the legendary stories about heating fish in the office microwave. So don't bring fragrant food indoors. Hot, spicy, and spicy food should be eaten outdoors, not in public places. By smelling, you violate the personal boundaries of other people. Maybe someone is hungry and you are teasing them with this smell, or someone may simply be uncomfortable with the smell of something edible nearby. Meanwhile, respecting personal boundaries is the basis of any etiquette.
Don't forget about crumbs and smearing texture
In addition to smell, food can leave crumbs and stains. Some drinks can also leave a trace. All of this greatly contaminates the surrounding space and can get on other people's clothes. Therefore, foods such as chips and ice cream should not be taken with you in transport or any public places. Try not to leave behind dirty traces unless you can quickly eliminate them yourself. The only exception is popcorn in the cinema.
Do not chew
Chewing with your mouth open, smacking, smacking - all of these sounds can be very unpleasant and even very annoying. That's why for a long time public eating was considered indecent in principle. Nowadays, etiquette standards have softened considerably, but you should still pay attention to the sounds you make while eating.
Earlier, OBOZREVATEL told how to give and receive gifts in terms of etiquette.
Subscribe to OBOZREVATEL's Telegram, Viber and Threads channels to keep up with the latest developments.