Trending:
Can socks be worn with shorts and sandals: what are the etiquette rules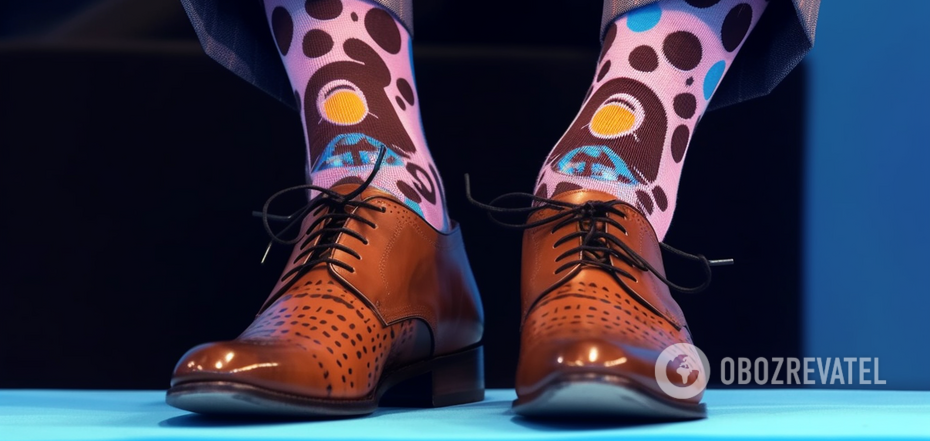 The requirements for the choice of socks are now becoming more liberal, but the basic rules still apply
Although sock etiquette has softened considerably in recent years and, for example, wearing socks with sandals is no longer considered a crime against style, there are still some rules. These are basic requirements that can be ignored in less formal situations, and in some situations even deliberately violate for the sake of effect.
OBOZREVATEL tells about the basic rules of choosing socks. And about how to combine them with the image as a whole.
Avoid gray color
Despite the fact that it is a universal base color, on socks it can look like just a road-dusted jersey or an old washed-out fabric. If you need an understated option, black socks are better for formal occasions, and white socks are better for sportswear.
Long socks under pants
Modern fashion offers a lot of options on how to wear pants - shortened jeans with sneakers, sports pants with sneakers, etc. Under these options, the ankle can be left naked, choosing sporty short models, or even completely invisible in shoes "footprints". This in no way will not be a crime against style. But classic pants are still better to combine with long socks. An exception can be made except for a more relaxed business style - business casual. But in this case, it is better to replace shoes with loafers.
Socks and shorts
Since shorts are the most informal type of clothing, according to classical rules, it is better not to combine them with long socks. Although modern fashion, on the contrary, encourages to wear noticeable socks under sporty shorts. But here you should keep in mind that this combination visually shortens the legs, so the proportion should be chosen very carefully.
Dark - to dark, light - to light
If you don't know how to choose the right socks to match your clothes, use a simple classical rule: under dark clothes it is better to wear dark variants, and under light clothes, respectively, light ones. However, the modern approach to the dress code allows you to break this rule if you want to choose something bright. But in this case you will have to show maximum determination - socks should have a really expressive color or print, which immediately attracts attention. And not just be basic, but contrasting to the rest of the clothes - wine-red or sea wave color. A bold message needs a bold approach.
Earlier OBOZREVATEL told why the etiquette of behavior on the plane recommends to always have a pair of socks on board.
Subscribe to OBOZREVATEL channels in Telegram and Viber to keep up to date.