Trending:
Can get seriously ill: what is strictly forbidden to feed domestic cats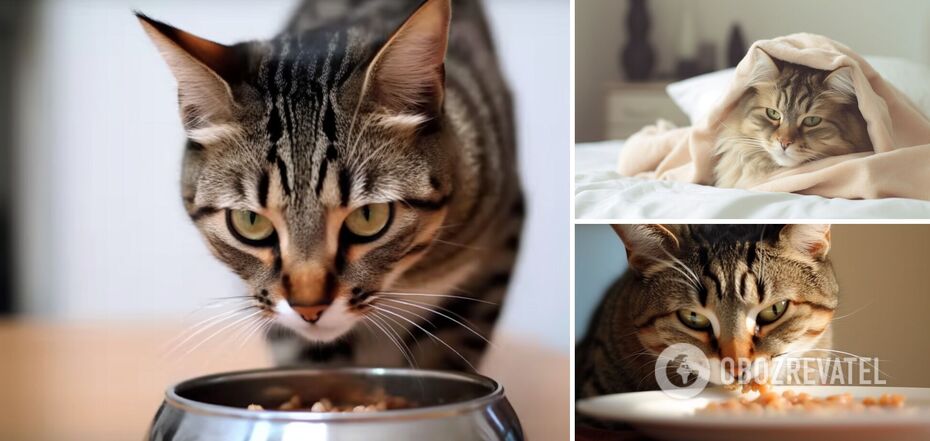 What not to feed cats
The main mistake in feeding cats is to combine dry food and homemade food. Veterinarians warn that this can lead to metabolic problems and gastrointestinal diseases.
Of course, there is nothing wrong with treating your pet to a piece of fried chicken or cheese once in a while, as an exception. It is the constant combination that is dangerous. Read the OBOZREVATEL article to find out what is strictly forbidden to feed domestic cats.
Raw meat and fish
Raw meat is the main product that causes health problems. It can contain parasites, bacteria, and pathogens. Therefore, you should not buy cuts or offal for cats, and it is recommended to avoid pork because of its excessive fat content,
Cats are often fed fish, but veterinarians do not recommend giving it to animals on a regular basis. Firstly, raw fish contains parasites. Secondly, regular consumption of it leads to kidney problems and urolithiasis.
Eggs
We are talking about raw eggs. They are dangerous because cats can become infected with salmonella. And the biotin contained in eggs will lead to metabolic disorders.
Vegetables
Cats can be fed boiled beetroot, carrots, and zucchini. However, some vegetables are dangerous and poisonous to animals. These are avocados, grapes, raisins, onions, garlic, and nuts. Potatoes and legumes cause flatulence and bloating.
Sweets
Chocolate and cocoa provoke heart and vascular diseases. In general, sweets are the main cause of diabetes, obesity, and dental diseases.
By the way, a cat's diet should consist of at least 60% meat products. We are talking about boiled or baked dishes. It is useful to cook broths or cereals with the addition of stewed vegetables. When formulating the diet, note that the animal must receive a sufficient amount of vitamins and nutrients. You can supplement the diet with pharmacy vitamins.
Earlier, OBOZREVATEL told what mistakes cat owners often make in the summer.
Subscribe to OBOZREVATEL's Telegram and Viber channels to keep up with the latest news.