Trending:
Can a black hole swallow the universe? Scientists explain the "voraciousness" of space giants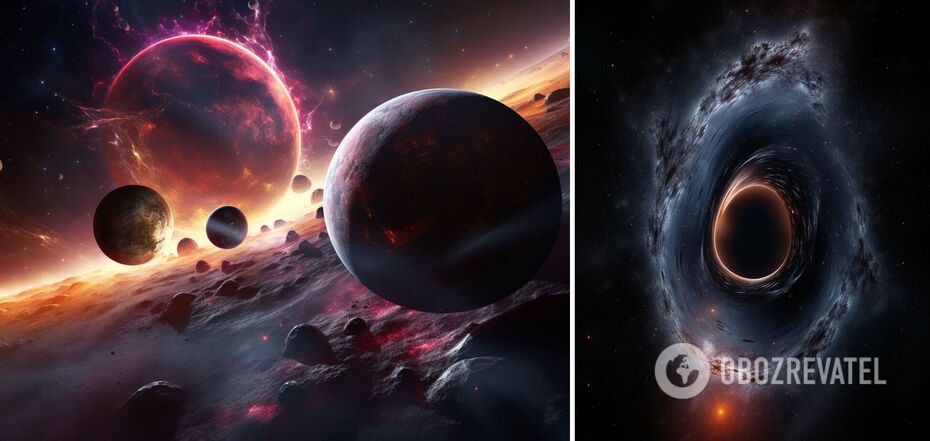 Black holes can be gluttons, but even they have a limit
Black holes can be called one of the most terrifying "beings" in the Universe. They have super-powerful gravity, from which even light cannot escape at a speed of almost 300 thousand kilometers per second and can completely swallow stars, planets and even other black holes. But are they voracious enough to swallow the entire universe?
LiveScience asked scientists whether such a scenario is possible, and whether black holes are really as voracious as they are thought to be. Spoiler alert - not really.
According to scientists from NASA, there is no way that a black hole could eat not only the entire universe, but even a galaxy.
Black holes are formed as a result of the collapse of massive stars. During this process, the star shrinks, becoming a very dense object whose gravitational pull is so powerful that it cannot be overcome even by light. However, as Gaurav Khanna, a black hole physicist at the University of Rhode Island, explains, the idea that a black hole can swallow up the universe is a fallacy. It is probably based on the false notion that black holes work like vacuum cleaners. But they don't.
"They only suck up things that are very close," Hanna says.
According to her, the object itself has to approach the black hole, or rather the event horizon (the point of no return), for it to rip it to shreds and swallow it.
As explained by the scientist, the event horizon is not infinite, so its strength is also limited. Thus, for a black hole with the mass of our Sun, it will extend only 3 kilometers, and for a black hole with the mass of the Earth - only a few centimeters.
As for the gravity of black holes, it can make planets and stars move in a certain way, but it does not cause them to be swallowed up. In particular, the orbital dance of objects in our Milky Way galaxy is also governed by the black hole at its center, but that doesn't mean we're all heading towards death.
To better understand this, University of York astronomy professor Paul Delaney suggests imagining a black hole of the same mass taking the place of our Sun. Despite all the claims about the power of gravity, this would have no effect on Earth.
"Our planet would not notice any change in the gravitational force acting on it and would continue in the same orbit," he said.
In turn, an expert on black holes at the University of California at Berkeley Alexei Filippenko explained that a black hole can absorb a star only if it comes to it. That is, it is not a matter of pulling the star, but that its orbit will coincide with the black hole. In particular, as the expert explained, in order for this to happen to our Sun, it would take "a really gigantic amount of time."
In addition, as Hanna explained, nature also regulates the voracity of black holes. The thing is, a black hole absorbs matter but releases tons of radiation. This causes the matter around the black hole to heat up and ionize, making it harder for gas and dust to cool down and fall into the black hole. Thus slowing down the rate at which the black hole can feed. This self-regulation prevents black holes from consuming entire galaxies, let alone the entire universe.
In addition, we should not forget that the Universe is in a state of expansion, and even when a black hole is growing, cosmic objects are moving away from it.
Earlier OBOZREVATEL also told about the fact that black holes can work as a time machine.
Subscribe to OBOZREVATEL channels in Telegram and Viber to keep up with the latest news.