Trending:
Budget New York: How to save money on a trip to the Big Apple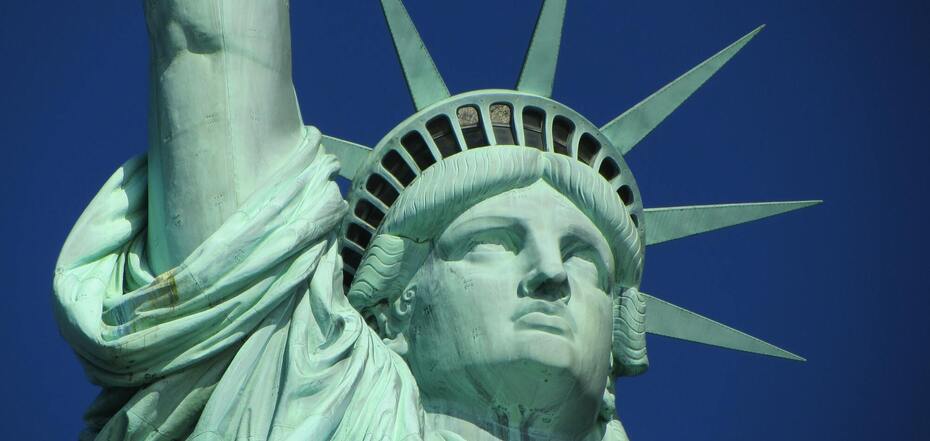 You can explore New York City with minimal effort. Source: pexels
New York is the city that never sleeps - full of diversity, creativity, energy and a unique atmosphere. It is the dream of almost all travelers, conquering hearts and leaving the most pleasant emotions as a memory. The city can be very expensive, but if you plan everything correctly, you will manage to make an impressive trip without spending too much. The following tips will help you explore New York on a tight budget - from cheap airfare and hotels to shopping tips, writes TravelWise.
Apply for an ESTA for $14
The Electronic System for Travel Authorization (ESTA) form is mandatory for anyone traveling from the UK to the US by sea or air. After submitting it, you will be able to find out if you have authorization to travel to New York or another city on a visa-free basis. The cost of filing the application is $14. You must submit the ESTA at least 72 hours before your flight.
Buy airline tickets favorably
Thanks to competition, airlines have significantly reduced prices, so now a trip to the Big Apple will cost less than £300. To find a ticket for under £200, follow these tips.
Use comparison services and sign up for price alerts. If the price drops, an email will arrive with itinerary details. Among the sites offering flight information and cheap travel options are Momondo, Kayak, Skyscanner.
Sign up for Jack's Flight Club, a handy tool for finding bargain tickets. After subscribing, you will receive flight information to your email. You can use the service for free or pay for a premium subscription, which offers more results.
Budget airlines (Icelandair, Norwegian) offer flights to New York at loyal prices, but Virgin Atlantic, for example, also often cuts prices to compete with other carriers.
From the airport to New York for $11
International flights arrive at JFK (20 miles from the center) or Newark, which is a bit further away. Of course, it's most convenient to take a cab, but that can cost $70 or more. Therefore, the best way to budget travel to New York is by public transportation, which offers more attractive prices.
By train
To get to downtown Mangetten from JFK, you'll have to pay from $7.5 using the AirTrain. However, from Howard Beach or Jamaica Station, you must take the subway ($2.75).
There are trains from Newark Airport to the Penn Transit station. A 25-minute ride will cost about $15, and there is no charge for children under five.
By bus
By reserving a seat on a van or bus, you can get from Newark or JFK airports for $20. The NYC Airporter and Newark Airport Express shuttles also run to Manhattan (about $18-$19 one way or $31.5 round trip).
The famous yellow cab
If you still want to feel like in the movie, and to the last penetrate the atmosphere of the restless city, make sure that you will not overpay. Often from tourists, cab drivers can take much larger sums. That is why, if you have already decided to use this transport, be sure to go to a specially marked official parking lot. The price for the trip depends on the airport. For example, from Newark to Manhattan you can get from Newark to Manhattan for 50-75 dollars, not counting tolls and tips.
Save up to $100 per night by staying outside of Mangetten
The cost of staying in a hotel in New York City on a tight budget can really bite, especially when it comes to the city center. Therefore, you should consider options near Mangetten. For example, you can stay in Long Island City (Queens neighborhood). The location has a very convenient location, because it is a short drive from the center. There are also many good hotels in Jersey City (30 minutes by public transportation from New York City), and room rates are almost half as much as similar accommodation options in Times Square.
One of the best ways to save money is to book in advance to get the best price for accommodation.
Hostel is a favorite option for tourists for budget travel.
The lowest accommodation prices are offered by this accommodation option, so it is very popular for those traveling to New York City on a tight budget. For example, you can stay in a hostel near Central Park, paying only 20£ compared to 150-250£ for a hotel room. In Brooklyn, you can rent a private room where you will stay without strangers for as little as 21£.
You can find the best option by using Hostelbookers.com, Hostelz.com, TripAdvisor. On the sites, you can read reviews, compare price and look at ratings.
Be careful with Airbnbs
This service is very popular all over the world, because with its help you can not only save money, but also experience the city from a different perspective. However, when using it in New York, you need to be especially careful. Here there are strict rules about who can rent their apartment and for how long. Therefore, you should check for permits, because if the landlord is arrested or fined, you will be left without a place to live and without money.
Outlets are the best way to save money on shopping
New York City is a dream for all shopaholics who are attracted by the windows and signs of the popular Macy's and Bloomingdale's. However, the prices there may not be too pleasant. When hunting for American brands, it's worth heading to one of the outlets located outside the city:
Woodbury Common - over 220 stores, but it takes about an hour to get there from New York City, but you can often make the trip by bus, paying $30 each way;
Jersey Gardens - over 200 stores and no sales tax on clothing.
Outlets offer discounts of up to 70% off and plenty of designer items to suit every taste. Keep in mind that the offers of such shopping centers can only be found out directly on the spot, not online.
Sightseeing Pass in New York City
If you are new to the Big Apple and plan to visit as many attractions as possible, we recommend purchasing a New York Pass. This pass provides free access to the most popular locations (9/11 Memorial, Empire State Building, etc.) for one to ten days. The price ranges from £100 to £350. Visiting without a New York Pas will cost much more if you want to visit many interesting places.
Tickets to sporting events for $5
New York is also known for sports, particularly basketball. However, visiting the famous Yankee Stadium can be quite expensive if you don't know some of the intricacies. On the official website, you can find tickets priced from 20 dollars. However, there is a New York Yankee ticket exchange service that allows you to resell and purchase tickets for 5-10$ with the possibility of bargaining. This feature can be used if you want to get to the games of The New York Knicks and The New York Mets basketball teams or The New York Rangers hockey team.
Don't splurge on museums
Some institutions offer a tour of their collections for free or at a better price than a standard ticket at the door, which is great for those looking for things to do in New York City on a budget. For example, the Metropolitan Museum of Art has an open-ended "pay as you see fit" promotion, and admission is free for children under 12. The best time to visit the Soloman R. Guggenheim Museum is Saturday from 4 to 6 pm. You won't have to pay for admission during this time. Tickets to the Museum of American Folk Art in general are always free.
Many institutions are geared toward children, from virtual projections to science shows. For example, the Intrepid Sea, Air & Space Museum offers a free program on Fridays from 5 to 8 p.m., the Museum of American Natural History offers admission with a donation at your discretion, as does the Brooklyn Children's Museum on Thursdays and Sundays.
Orient yourself like a New Yorker
In an unfamiliar city, it can be difficult to figure out public transportation and routes. To prevent these problems, use the free Citymapper app, available on iPhone and Android. It's a handy service for plotting bus, rail, subway, ferry or bike routes and calculating their duration.
It's important to make sure you don't pay too much for roaming charges. So you can save your route offline or connect to Wi-Fi.
Check insurance
When traveling to the United States, it is imperative that you take care to have a travel policy. This will protect you if you cancel your trip or if you need medical treatment, because the cost of bills can be very high. It is necessary to check whether the policy really covers not only Europe but also the USA. In some cases, you have to pay a certain amount extra separately to include a country.
Walk as much as possible
Of course, this is a very good way to save money, but it is also one of the best opportunities to explore the city. It is important to plan your itinerary so that you visit as many cultural or historical sites as possible at the same time. For example, if you are already in Lower Mangetten, you can visit the National Museum and 9/11 Memorial and the oldest church, St. Paul's Chapel, at once.
In the city, you have the opportunity to go all the way from downtown to the farthest corner of Brooklyn on foot, while finding many fantastic locations. A good and eco-friendly way to save money and work up an appetite, especially when it comes to a budget trip to New York City. You'd be surprised how much you can save by not using transportation.
Free cruise with a view of the Statue of Liberty
Normally, a ticket to Liberty Island costs around $30. However, there is one way to save money and see America's landmark for free. The following trick will help you save significantly, so it's worth it to be among the tips about New York City on a tight budget.
A free ferry, featured in the popular movies "How to Get rid of a Guy in 10 Days" or "Sex and the City," runs 24 hours a day between Staten Island and Whitehall Street. The route is laid through the picturesque New York Harbor, so such entertainment will not leave anyone indifferent.
Empire State Building without queues
This building is a truly iconic landmark that offers extraordinary panoramic scenery from its top to the Statue of Liberty. Not surprisingly, you can come across some pretty long lines here.
To avoid wasting time at the ticket office, book your ticket online. The cost is the same and you can use them anytime within one year. The best time to visit the Empire State Building is in the morning - between eight and eleven in the morning. This will avoid queues and go straight to the elevator that takes visitors to the observation deck.
Broadway tickets are 50% off
Shows on Broadway attract connoisseurs from all over the world. However, this pleasure is not cheap. For example, to see The Phantom of the Opera you'll have to pay between £60 and £155, if you're lucky enough to get a ticket at all.
Book tickets in advance
It is always better and more cost-effective to plan ahead. For example, tickets for Broadway shows usually go on sale six months in advance. So it's best to book them as soon as possible before traveling to the US. New York Theatre Guide contains comprehensive advice and answers to frequently asked questions, but you should use other services to book tickets, as they charge a significant commission. For example, Ticketmaster or the official website of the show.
If it doesn't really matter what the performance is, try purchasing day-of tickets. Yes, the famous Times Square kiosk offers discounts of up to 50%, but you'll have to wait in line for a while to save money.
Cloudy prices for a helicopter tour
Of course, a helicopter will never be associated with traveling to New York City on a tight budget. However, experienced travelers say that flying over the city is an unforgettable experience. Therefore, if you do decide to take a helicopter tour, make sure that the price is not exorbitant.
Often operators offer discounts and special offers, you can use the Travelzoo service to find the most favorable option (about 170$ instead of 300$). It is best to book your tour in advance and keep an eye out for any additional fees, which can amount to a significant amount.
Typically, a helicopter flight includes a tour with views of Rockefeller Center and the Empire State Building and, of course, a detour around the Statue of Liberty.
The most popular locations in New York City are free
You don't have to pay everywhere to have an interesting time. Many places can be visited for free. So, what to do in New York with a limited budget? Among the most popular locations to visit are the following.
Museum of Modern Art. On Fridays from 17:30 to 21:00 there is free admission, so everyone can see the famous Campbell's soup cans made by Andy Warhol, and much more and no less amazing.
Grand Central Station. The attraction, appearing in many movies and TV series, strikes you with its architecture. We also advise you to visit the Whispering Gallery, where many famous movie scenes were filmed.
Brooklyn Brewery. Craft institution offers tours on weekends, of course, with a glass of foam.
Central Park is the most famous in the city. Here you can take a boat ride on the lake or visit John Lennon's Strawberry Fields. We also recommend visiting the unusual High Line Park, built on a railroad track.
Behind the scenes of a TV show. If you apply in advance (about a month in advance), you can get to the shooting of famous American programs - Daily Show, America's Got Talent and others.
Hudson. To see the Big Apple from a different perspective, take a water kayak trip (May through October).
Walking Tour. Big Apple Greeter organizes small group walks for up to six people. The key is to pre-book a tour at least a few weeks in advance.
Festivals, plays or concerts. There's something interesting happening every day in New York City, and Central Park is home to a free outdoor theater.
The Brooklyn Bridge connects Brooklyn and Mangeton and offers striking views.
To finish, take a picture in Times Square and soak up the atmosphere of the most famous square with its many restaurants, stores and galleries, and the buzz that doesn't fade even at night to make a budget trip to New York memorable forever.