Trending:
Budget exotic resorts: where to vacation at sea in 2023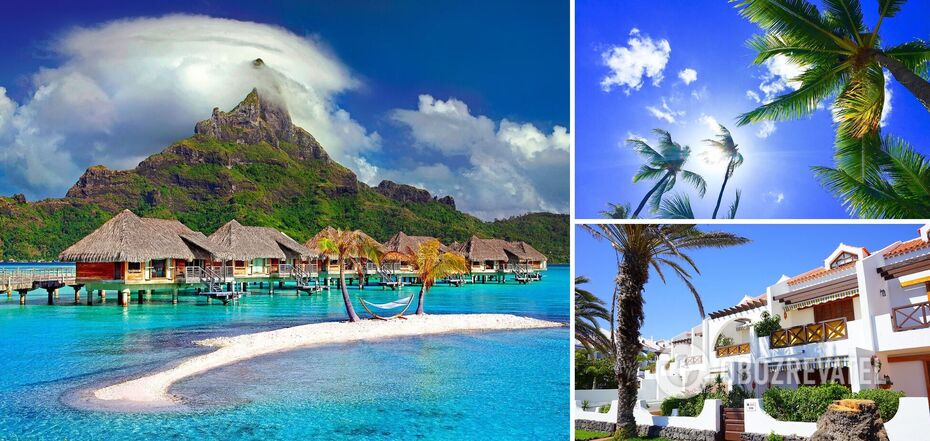 The cheapest resorts in the world
Dreaming of a vacation on a white-sand beach under tropical palm trees, but not for all the money in the world? Then we have a solution for you. There are several resorts that, despite their beauty, offer reasonable prices for accommodation, food and entertainment.
However, keep in mind that the biggest expense may be the flight. We recommend booking tickets in advance to make your vacation even cheaper.
Phuket, Thailand
A popular destination that attracts more tourists year after year. The province includes one large island and 39 smaller ones.
In addition to paradise beaches, travelers are welcomed by the cultural and historical sights of the region. Particularly in demand are local markets, colorful cafes and souvenir stores, where they offer a lot of interesting and unusual things for relatively small money.
Rest in Phuket is quite diverse: families with children, and youth companies, and lovers of water sports will like it here. For this purpose, the islands have everything you need: beautiful villas and hotels, a large number of food establishments and entertainment centers, as well as diving schools.
Average budget for two people:
accommodation and meals - from $500/week;
lunch or breakfast in a cafe - from $2-4;
moped rental - from $60/week.
When planning your budget, consider the cost of entertainment, excursions and souvenirs. Experience shows that this can be quite an impressive sum. It is better to know in advance how much you are prepared to spend on this.
Phu Quoc, Vietnam
The largest and most famous island of the country is famous for its incredible beaches, sights and ancient temples.
It is believed that civilization has not yet had time to "spoil" this corner of the planet, so here you will find clear water, fine clean sand and the coolness of the rainforest under the hot sun.
For tourists, Phu Quoc offers a sea of entertainment: boat trips, excursions, diving, fishing, amusement park and even a safari park.
Average budget for two people:
room and board - from $350/week;
lunch or breakfast in a cafe - from $1-3;
moped rental - from $5-10/day.
If you want to save even more during your vacation, come to the resort at the very beginning or end of the high season. Prices are a bit lower then, and there are fewer tourists.
Benaulim, India
Here you will not find attractions that attract crowds of tourists. On the contrary, visitors come here in search of the peace and privacy that the beaches promise.
Benaulim is ideal for families with children, as the Arabian Sea in this area is quite calm, without strong currents and with gentle slopes to the water. Also here you can often see flocks of dolphins swimming very close to the shoreline.
Connoisseurs of cultural recreation can go on excursions to neighboring provinces, where there are ancient shrines, ancient settlements and picturesque natural corners.
Average budget for two people:
room and board - from $500/week;
lunch or breakfast in a cafe - from $5-7;
moped rental - from $10-15/day.
Kuta, Bali
The pearl of the famous Indonesian island and the only place on the coast where the waves crash on the golden sand, not on coral reefs.
Here any traveler can find something to do: from sunbathing on the beach to shopping. In Kuta you can walk along the promenade, visiting one after another souvenir stores, or try local cuisine in colorful cafes. From there, you can go shopping or sign up for surf school lessons.
This paradise is famous for sunsets of incredible beauty, the memories of which will warm your soul for a long time to come.
Average budget for two people:
accommodation and meals - from $400/week;
lunch or breakfast in a cafe - from $2-5;
SPA procedures - from $8.
Zanzibar, Tanzania
Due to its remote location, this resort is not too popular among tourists. Nevertheless, those who do get here get an unforgettable vacation on deserted beaches amidst the wild tropics.
Some of the most popular things to do in Zanzibar are boat trips and excursions. We recommend visiting the spice island, where besides the latter, tropical fruits and medicinal herbs are also grown. The bay with dolphins offers vivid emotions from swimming with these amazing animals, and Boriba reef will surprise even experienced divers.
Wildlife lovers can visit the Jozana Forest National Park. There you will find impenetrable jungles with mangroves, where monkeys jump on branches and leopards lazily contemplate the world from the shadows. For those who want more adventure, the mainland awaits, where you can take part in a real safari.
Average budget for two people:
accommodation and meals - from $500/week;
lunch or breakfast in a cafe - from $4;
diving - from $40.
There are many wonderful places in the world available for relaxation and discovery. While some of these resorts may not be as hyped, they will give you incredible experiences and opportunities for both relaxation and fun.
From family vacations with children to romantic outings for couples, from action sports to cultural enrichment, each of these destinations has its own characteristics and caters to different needs. Choose your destination and embark on an unforgettable journey!
Earlier OBOZREVATEL told about little-known islands, striking with their beauty.
Only verified information from us in Telegram-channel Obozrevatel and in Viber. Do not fall for fakes!