Trending:
Bald and dark-skinned: what the legendary Ötzi Iceman really looked like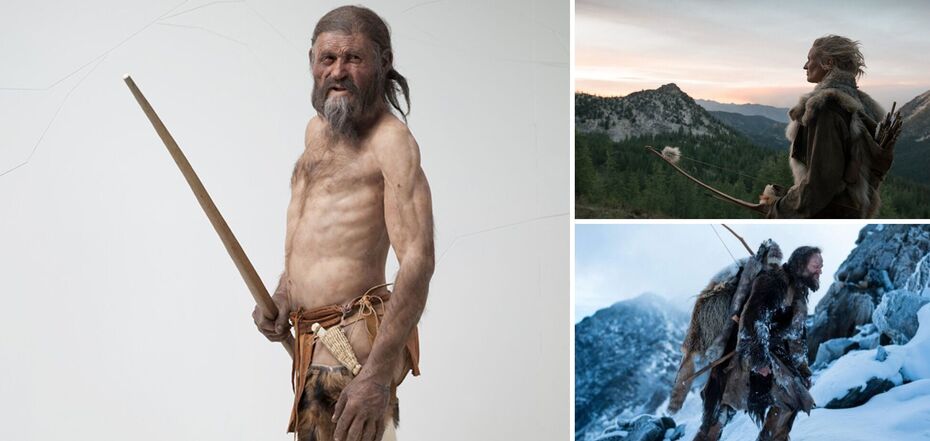 The first image is a preliminary view of Ötzi (research has shown that the glacial man looked different).
Scientists conducted the most detailed genetic analysis and were able to reveal the history of the Ötzi Iceman. It turned out that the man actually looked somewhat different than previously imagined.
A mummy aged about 5,300 years old was discovered in the Italian Alps. How the legendary glacial man actually looked like, told the publication Ifl Science.
Who is Ötzi
Ötzi's body was discovered in 1991. German tourists climbing the mountain slopes along the Austrian-Italian border suddenly noticed a frozen mummy. Scientists examined the remains and got a fairly clear picture of ancient human life.
8000 years ago, hunter-gatherers in Western Europe merged with the first farmers who migrated from Anatolia. And only 4,900 years ago (after Ötzi's premature death), steppe herders from Eastern Europe began migrating westward.
New Research
Scientists suggest that Ötzi was a farmer from Anatolia (present-day Turkey). Recent studies have shown that his skin color was much darker than previously thought. What's more - Ötzi was probably bald (assuming the stresses and strains of the Copper Age period didn't get around him).
"Almost all Europeans living in Ötzi's time had dark skin, and many of them were of Anatolian origin," said Johannes Krause, professor and author of the study from the Max Planck Institute for Evolutionary Anthropology in Leipzig.
It was previously thought that Ötzi had no hair, as it had (quite logically) absolutely degenerated and fallen out over the millennia. However, genes indicate that he had a strong propensity for baldness, an increased risk of obesity and type 2 diabetes.
Ötzi had a weak heart, suffered from intestinal parasites and even had tattoos on his skin. Ötzi's death was sudden - an unknown assassin pierced him with an arrow.
"Ötzi has the darkest skin tone that has been recorded in modern Europeans. It used to be thought that the mummy's skin darkened during storage in ice. It is likely that what we see now is actually mostly the original skin color," Albert Zink, co-author of the study and head of the Eurac Mummy Research Institute in Bolzano, stressed in a statement.
Earlier OBOZREVATEL told about Swedish biologist Svante Paabo, who came up with a way to decipher the DNA of Neanderthals and shed light on the past of mankind.
Subscribe to OBOZREVATEL 's Telegram and Viberchannels to keep up with the latest news.