Trending:
Autumn vacation in Greece: 3 best resorts in the country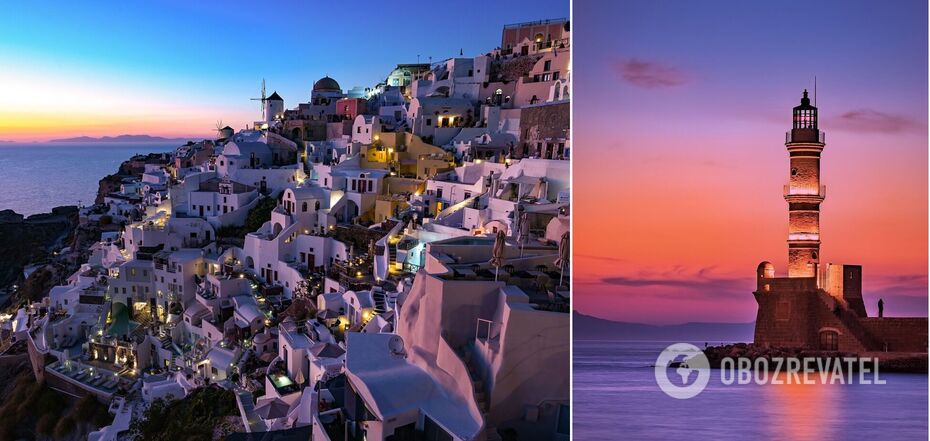 The best resorts in Greece
Greece is one of the most popular countries among European tourists. People come here for the mild climate, incredible views, and, of course, endless beaches. It is also the cradle of ancient civilization, so you can go on various excursions all day long, but even in a month you will not have time to see all the sights of this unique country. Where to spend a vacation in Greece in the fall?
Athens
Vacationing in Athens at any time of the year is an exciting and extremely interesting experience. The city offers so many historical, cultural and tourist attractions that there is something for everyone.
Most foreigners come to this beautiful resort in the summer, facing the heat and crowds of tourists. In the fall, the weather in Athens is much better for relaxation. The temperature at this time ranges from 20 to 28 degrees above zero. So you can expect sunny and warm days. However, it can be chilly at night, especially in late September and October, so don't forget to bring a light sweater or jacket.
The first place to visit in Athens is, of course, the Acropolis. In September, the number of tourists decreases significantly, which allows you to explore this fascinating complex, which includes the Parthenon, the Erechtheion and other ancient buildings.
Also, don't forget to check out the National Archaeological Museum, where you can see a huge collection of ancient treasures that will better acquaint you with the history of Greece.
No less interesting will be a walk around Syntagma Square, where there are many shops, cafes and restaurants. Be sure to try local meat and fish dishes. They will surprise you with an interesting combination of flavors and aromas. Greece is also famous for its desserts. The most famous of them are baklava and loukoumades.
It is also worth a walk along Ermou Street, which ranks 14th among the most expensive shopping routes in the world. Here you will find unusual boutiques and showrooms.
If you feel adventurous, go on an excursion to the Greek islands. In particular, there are ferries from Athens to Rhodes, Corfu, Thira, and other beautiful parts of this country.
Crete
This charming Greek island offers a variety of activities and spectacular sunrises. As in Athens, the number of tourists decreases in the fall, which means that prices are much more reasonable than they were during the peak season.
The weather in Crete at this time is very comfortable. The air temperature is usually 21-29 degrees Celsius, which makes this period ideal for outdoor activities, excursions and water sports. By the way, the water in the sea in September-October is still quite warm, so you can even swim.
Of course, the island is famous for its beautiful beaches, which are worth visiting even if you are not going to go into the sea. The local landscapes will amaze you with their beauty and will make a great backdrop for photos.
Don't forget that Crete has many historical sites. You can organize excursions to ancient places such as Festus, Malia, Palekastro, around which hundreds of legends gather to this day. It is also worth visiting Lassithi, where you will find many hiking trails of varying difficulty. Extreme sports enthusiasts can try to reach the top of Mount Ida, which is almost 2.5 kilometers high.
After such an active vacation, you should treat yourself to local delicacies. Fortunately, the island has many restaurants serving traditional dishes. Don't miss the chance to taste feta cheese made by local farmers, olives, seafood dishes, and Greek wines. By the way, in the fall, Crete hosts a festival of this amazing drink, which includes not only tastings but also various cultural events.
Santorini
Another popular Greek resort, famous for its architecture, breathtaking views, and romantic atmosphere, and autumn adds a special charm to this island.
At this time, the weather in Santorini is quite comfortable and pleasant. The air temperature, although lower than in Crete, is rarely less than 18 degrees Celsius. So you can expect sunny and warm days. The water in the Aegean Sea in September and early October remains warm enough for swimming. However, the evenings can already be cool.
The island will amaze you with breathtaking views of volcanic cliffs, crystal blue sea and white houses. Autumn adds a soft orange hue to the landscape, making the area even more picturesque. All of this creates the perfect conditions to consider Santorini one of the most popular destinations for honeymoons and romantic trips.
In addition to the incredible beauty of nature, the resort is known for its wine-making traditions. You can visit wine cellars and taste local varieties of this drink, such as Assyrtiko and Vinsanto. In addition, do not miss the opportunity to appreciate the traditional Greek cuisine in local restaurants and taverns.
The island cannot boast of a large number of historical sights, but it is home to hot springs with healing properties. By the way, it is on Santorini that tourists have the opportunity to swim in a lake located in a volcanic crater. This is a truly impressive experience.
Earlier, OBOZREVATEL told you where to relax at sea in Europe in the fall.
Only verified information is available on the Obozrevatel Telegram channel and Viber. Don't fall for fakes!