Trending:
As if they came off the TV screens: what breeds of dogs are the most beautiful. Photo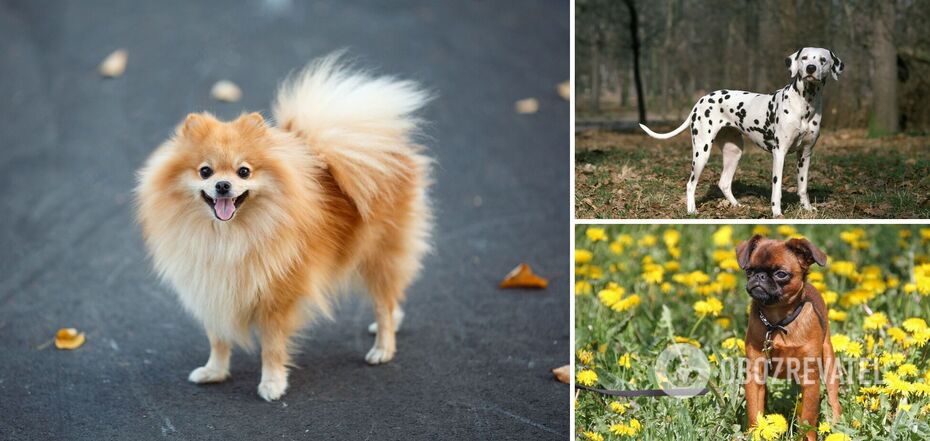 Spitzes, Dalmatians and Brabansons are all very beautiful in their own way
The variety of dogs allows you to choose a favorite not only by its working qualities, but also by its appearance. There is even a whole class of dogs - decorative. Their task is simply to be beautiful. However, in the list of the most spectacular breeds there are not only its representatives.
OBOZREVATEL tells about ten breeds that will charm anyone with their appearance. In the list there are both very miniature creatures, and very large breeds.
Yorkshire terrier
A baby with a silky coat can charm anyone. Care for his appearance will require some effort from the owner, but charismatic yorkies can not be confused with anyone. They are very intelligent and strongly attached to their owners. They also look wonderful in stylish suits, which they wear with pleasure.
Shih Tzu
Another dog "with hair" on the list. They were favored by the Chinese emperors for their magnificent appearance and since the 17th century, only the ruling family was allowed to own a Shih Tzu. These small dogs are attached to all members of the family at once and are happy to spend time with everyone in turn, as they do not like loneliness. The Shih Tzu's long coat requires careful grooming and regular brushing.
Papillon
The Continental Toy Spaniel got its second name because of the resemblance of its large ears to the wings of a butterfly. It comes from the French word papillon, which means butterfly. It is one of the most intelligent breeds in the world. Despite their small size, the intelligence of this breed is very high - they easily learn commands and are very sociable with people.
Dalmatian
Once you see this dog, it is impossible to confuse it with anyone else. Its large size, majestic posture and recognizable white coloring with distinctive black spots create the unique beauty of the Dalmatian. This look probably made the breed popular back in ancient Egypt. They are strong dogs, excellent guards and companions. But they won't suit people who don't like to walk a lot.
Pomeranian
Most of all, these cute dogs resemble a fluffy ball of fluff on thin legs and with a foxy face that constantly appears to be smiling. Pomeranians are the most diminutive of all Spitzes. They are very energetic dogs, ready to play endlessly with their owners. A big plus of the breed is that while they are fluffy, they shed very little.
Chinese Crested
The breed gets its name from its spectacular crested mane, which stands out both in the bald subspecies and the downy subspecies. It is not a large breed with a proud posture. Bald dogs have very soft, pleasant to the touch skin, while downy dogs have a soft coat with no undercoat. For any tasks, except to be companions, these creatures are not suitable. But they will love their people with all their heart.
Samoyed dog
It is a northern breed, famous for its large snow-white coat and smart smiling face with black nose and eyes. Samoyeds are somewhat reminiscent of polar bears. Because they were bred to be sled dogs, these dogs are very energetic. At the same time, they are not aggressive and are very contactable. The flip side of the coin is that they can suffer from anxiety if separated from their owner for long periods of time.
Pug
First of all, pugs are loved for their gentleness and calm, even phlegmatic character. In ancient China they were kept by the nobility, and in Europe they first appeared in the 16th century in the Netherlands and immediately acquired the status of universal favorites. Pugs are very funny and yet incredibly cute. However, they are suitable only for those owners who are ready to pay a lot of attention to the care of the pet.
Brabant Griffon (Brabanson)
It is a small but very strong and hardy breed. Brabansons are intelligent and inquisitive, they love to play and are always very affectionate with their owners. However, their activity can frighten a small child, so in a family with kids they should be taken with caution. Most of all these dogs love to run, so the owner of a Brabanson should be ready to keep him company on jogs.
Maltese
It is not a large dog of white color with a long coat. Maltese have a surprisingly proud posture, so they give the impression of aristocratic animals. In fact, they are very affectionate and intelligent creatures, most of all loving walks with their owner. They are also happy to play games and need a lot of physical activity. In essence, they are a good-natured little bully who needs to be allowed to release energy.
Earlier OBOZREVATEL told what breeds of dogs are the most popular in the world.
Subscribe to OBOZREVATEL channels in Telegram and Viber to be aware of the latest events.