Trending:
An explosion at a factory where Iskanders were produced was heard in Russia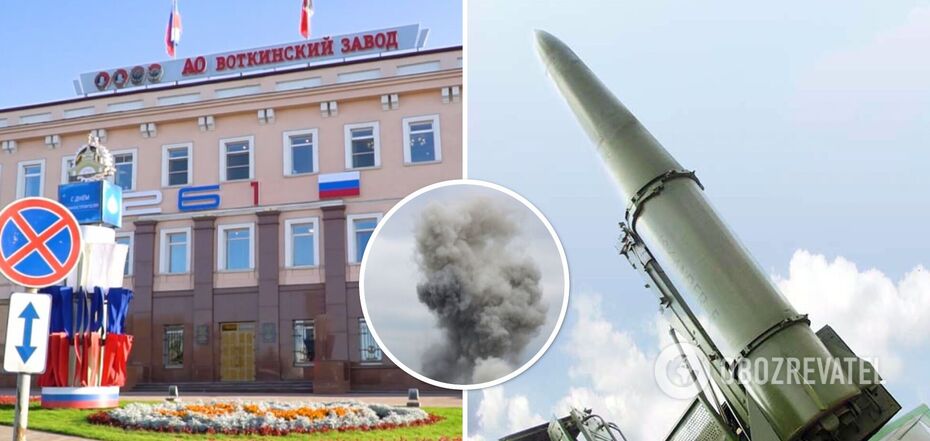 An explosion at a factory producing Iskanders was heard in Russia
An explosion on the territory of the Votkinsk plant was heard in the Russian republic of Udmurtia. The plant produces military equipment, Iskander missiles in particular.
The incident was reported by the press service of the plant. They said it was the "triggering of the equipment, accompanied by blast and smoke".
The enterprise assured that no one was injured as a result of the incident and the plant continues to operate in normal mode. The reasons for the explosion were not disclosed.
However, the "Udmurtia Against Corruption" Telegram channel reported that at first it was assumed that the enterprise was attacked by a drone, but then it was found out that the explosion in shop No. 95 was caused by the detonation of the product in the armored capsule. The hull of the workshop where the test was conducted survived but suffered significant damage.
"One of the hulls in which missiles were being assembled to be sent to the war in Ukraine was damaged. No one was seriously injured in the explosion. Even the ambulance left empty," a source at the enterprise said.
However, residents commented that the workshop was secret and workers there do not have cell phone service, so they expressed doubts that there were no casualties from the explosion as smoke was seen outside the city.
According to open sources, the Votkinsk plant was used to produce Topol-M missiles. It also started serial production of Iskander-M missiles in 2006. The enterprise is sanctioned in the United States, Japan, the EU, Ukraine and Sweden since 2022.
The day before, a series of explosions occurred in the harbor area in Novorossiysk (Krasnodar region of the Russian Federation). The Defense Ministry of the aggressor country said that the cause of this was the "attack of the AFU drones" on the naval base which "were destroyed." Later it was confirmed that as a result of the attack one of the landing ship capsized.
Russian propagandists later accused the Russian Defense Ministry of lying about an August 4 attack by naval drones on a bay in Novorossiysk, Russia's Krasnodar Territory. They pointed to the ministry's first false statement that Russian Forces allegedly intercepted all drone strikes instead of acknowledging damage to the Olenegorsk Miner landing ship.
As reported by OBOZREVATEL:
- A massive fire broke out in the Russian city of Bryansk late in the evening of August 1. According to some reports, residents heard an explosion before the incident.
- Explosions were also heard in the center of Moscow on the same day, Several drones allegedly attacked the Russian capital, one of them hitting the Moscow City business center.
Only verified information from us in Telegram-channel Obozrevatel, Threads and Viber. Do not fall for fakes!