Trending:
"All contradictions should be resolved through negotiations": Putin makes cynical statement about war in Ukraine. Video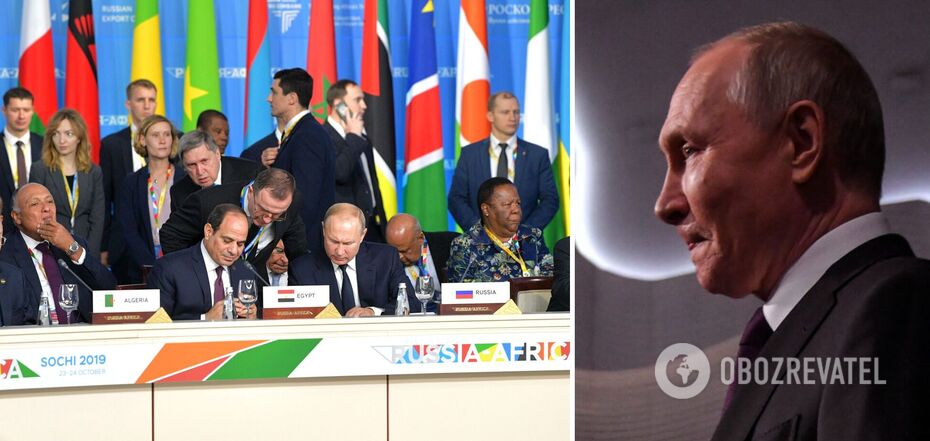 Putin complains to Africans that Ukraine ''refuses to negotiate''
Russian President Vladimir Putin, who ordered first a hybrid and then a full-scale invasion of Ukraine, accused our country and its Western allies of "refusing to negotiate". He said that Russia is allegedly "open to negotiations" and believes that this is the only way to "resolve differences".
Putin said this on 28 July to representatives of African countries who came to Russia to participate in the Russia-Africa summit. At the same time, he did not specify that in Moscow's view, "negotiations" are the submissive fulfilment of the Kremlin's ultimatums and the recognition of Russia's occupation of part of Ukraine's territories.
Russian propagandists began circulating a fragment of Putin's speech to the participants of the Russian-African summit, in which he cynically accused Ukraine, as well as the United States and NATO, of continuing the war.
The West, the Russian dictator complained, does not want to bend to the Kremlin's demands.
"We, of course, agree that all differences should be resolved through negotiations. But the problem is that they refuse to negotiate with us. The conflict is based on the creation of threats to Russia's security by the US and NATO. And they, I repeat, refuse to negotiate on issues of ensuring equal security for all, including Russia," Putin said.
He also made accusations against Ukraine. The Russian dictator is deeply outraged by the fact that Ukraine is unwilling to accept the occupation of part of its territories and refuses to start negotiations until Russia withdraws its occupation troops from Ukrainian soil and stops destroying cities and killing Ukrainians.
"And Ukraine itself, or rather the current Ukrainian regime, refuses to negotiate. They have officially stated this. And the President of Ukraine has issued a decree on this issue, which prohibits negotiations. We have repeatedly said, and I have officially stated, that we are ready for these negotiations. But we cannot impose these negotiations. Therefore, we need to have a dialogue with the other side. Although we are grateful to our African friends for their attention to this problem," Putin said.
Earlier it was reported that the Russia-Africa summit had started in Russia. The event, which was intended to show that Russia was not in complete isolation, only underlined the toxicity of the current Russian Federation even for developing countries on the African continent: most African leaders ignored the Russia-Africa summit, although they had invited everyone to attend.
The leaders of 38 out of 54 African countries refused to attend the Russia-Africa summit, which is taking place in St Petersburg, Russia, on 27-28 July. Only 17 heads of state arrived in Russia in person. Another 10 countries sent prime ministers, and almost half sent lower-level delegations: 17 headed by deputy prime ministers and ministers, and five were just ambassadors. Another five African states refused to participate in the summit altogether.
The Kremlin tried to justify the failure by saying that the number of top officials had been reduced due to the work schedule of a number of leaders, as well as Western attempts to put pressure on them.
Only verified information is available in our Obozrevatel Telegram channel and Viber. Do not fall for fakes!