Trending:
A puzzle that will break your brain: only people with high IQ will find the answers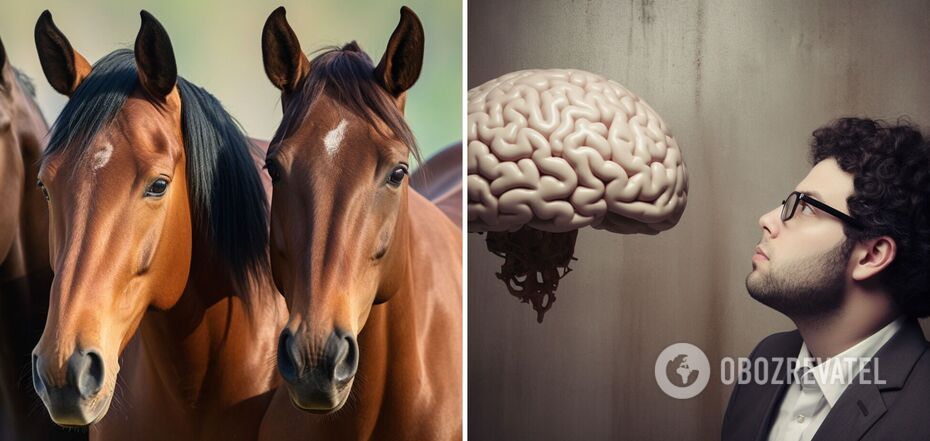 A puzzle that will break your brain: only people with high IQ will find the answers
Optical illusions, which bring our perception to a dead end, can be singled out in a separate category. It can be difficult for the brain to abandon the usual way of processing information and make the right conclusion about what is depicted in the picture. For example, this was the case with the viral photo of a black-gold dress the whole internet was fighting about.
OBOZREVATEL publishes a puzzle of this type for people with a high intelligence quotient and observation. After all, it confuses even experienced lovers of such tasks.
Two horses are depicted in the photo. They stand head to head so that only one muzzle appears in the frame; the second is hidden behind it. It can be very difficult to recognize whether the head looking into the frame belongs to the left or right horse.
Both animals have very similar coloring and are about the same size. This makes it even more difficult to establish the truth. Still, the attentive observer will notice an unambiguous clue in the image. We will talk about it further. If you do not want to know the answer too soon, give yourself some more time to think about the puzzle.
The answer to the optical illusion with two horses
If you look closely at the image with two horses creating an optical illusion, you may notice one color nuance. The animals have manes of different colors.
The horse marked with the number 1 has a red mane. The mane of the horse number 2 is black. It is the long hair of such a dark color that lies on the neck of the animal looking in the frame. Thus, the correct answer to the optical illusion is that it is the second horse that is facing the viewer. The first is hidden behind him.
Earlier OBOZREVATEL published an optical illusion with Kobzar where six faces are seen. Three of them are writers Lesia Ukrainka, Ivan Franko and Taras Shevchenko.
Subscribe to OBOZREVATEL channels in Telegram, Viber and Threads to keep up to date with the latest events.