Trending:
A lieutenant colonel, two majors and three captains: the crew of the Russian IL-22 downed by Wagner mercenaries has been revealed. Photo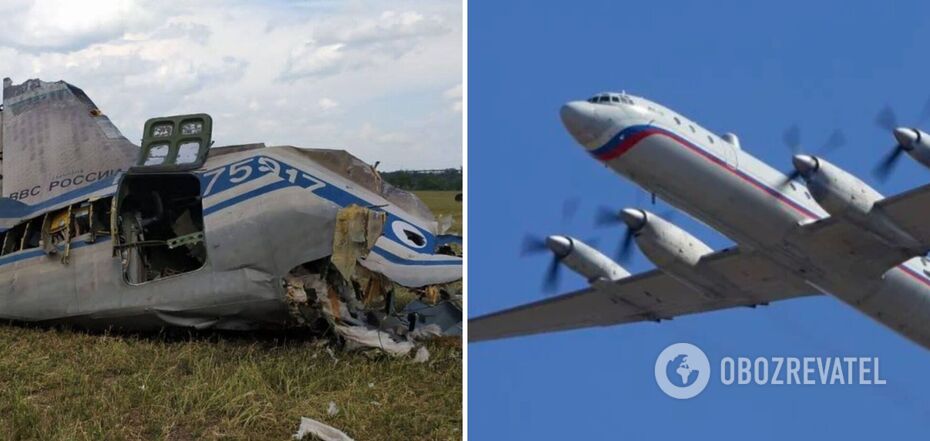 Wagner mercenaries shot down a rare IL-22 with a dozen servicemen on board during a ''march on Moscow''
During the one-day "rebellion", Wagner mercenaries shot down several Russian army aircraft, including an electronic reconnaissance and electronic warfare aircraft IL-22. Along with this aircraft, ten Russian servicemen on board were turned into "good Russians".
Their names and photos were posted online three days later. According to Ukrainian officer Anatoliy Shtefan, the occupiers "denazified" by the Wagnerites include a lieutenant colonel, two majors and three captains.
Shtefan published photos and names of Russian soldiers who were killed by Wagner mercenaries.
"The crew of the IL-22 was successfully demobilised thanks to the Wagnerians," he wrote.
"Russian publics have posted a list of officers killed by Wagner's men on board the IL-22 (RA-75917). It should be noted that the aircraft belonged to the same 610th Combat Application Centre as the A-50U long-range detection and guidance aircraft, whose commanders we have already written about. As expected, this aircraft became a very "fat" target. Some of the officers had fought in Syria," the OSINT Bees investigators said.
The destroyed aircraft was based in Ivanovo at the Northern airfield, while it was shot down in the Voronezh region on 24 June.
And the Russian public "ВЧК-ОГПУ" even published information about the official activities of the liquidated occupiers.
Thus, the "denazification" was successfully carried out:
Lieutenant Colonel Artem Milovanov, commander of the instructor ship, born in 1979;
Major Gennady Belyakin - navigator, born in 1983;
Major Alexander Sviridov - head of the communications centre, born in 1975;
Captain Viktor Popov - flight engineer, born in 1980;
Captain Artem Sharoglazov, commander of the aircraft, 1991;
Captain Igor Volochilov - technician, born in 1973;
Lieutenant Nikita Golubev - assistant commander, 1999;
Staff Sergeant Aleksey Scrikov - flight engineer, born in 1994;
Staff Sergeant Viktor Podrepniy - senior radio operator, born in 1980;
Senior Warrant Officer Sergei Starushok - radio operator, born in 1973
As a reminder, during the one-day "mutiny" in Russia, PMC mercenaries shot down a plane and 6 helicopters with crews, and killed at least 13 Russian VKS pilots who tried to strike along the route of the convoy towards Moscow.
Among the losses of Russian aviation, which Russian propagandists have called the largest since March 2022, is the unique Il-22M-11, which helped the occupiers build the front. According to the Russian media, ten Russian soldiers were flying it alone. All of them were killed.
Only verified information is available in our Obozrevatel Telegram channel and Viber. Do not fall for fakes!