Trending:
A fighter without half a body won his debut MMA fight and got 4 million views online. Video.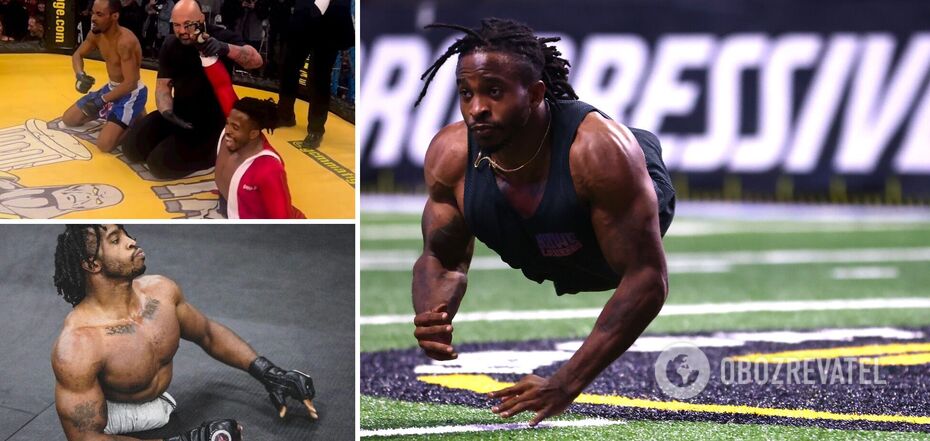 The athlete caused a real sensation on the Internet
American mixed martial arts (MMA) fighter Zion Clark, who was born without legs and part of his spine, has won his first professional victory. Clark, 25, defeated his compatriot Eugene Murray by unanimous decision at the Gladiator Challenge tournament.
Despite the fact that Murray was completely healthy and had all his body parts working, he lost to Clark, suffering his fifth defeat. This video garnered over 4.4 million views on Twitter in a few days
Clark is listed in the Guinness Book of World Records as the fastest person to walk on two hands. He covered 20 metres in 4.78 seconds.
Clark's biological mother used drugs when she was pregnant with him. As a result, Zion was born with caudal regression syndrome. This disease causes the embryo to develop only half of its body.
"Yeah, my biological mother, she was a drug addict and was constantly in prison. When I was born, I had almost every party drug imaginable. Most babies don't survive past the first day, especially if the mother marinates her unborn child in such drugs," Clarke said.
He needed two back surgeries to sit upright. His parents gave him up for adoption shortly after his birth. He went through several foster homes.
One family forced him to wear prostheses, which made him sit in an uncomfortable corset. The prostheses were supposed to straighten his back, but even after the desired result was achieved, the new parents made him continue to wear them as a punishment.
"It got to the point where it became a punishment. I felt like I was on my own. If something broke on the prosthesis, the nurse would call and I would be punished at home," the fighter recalled.
Clark's new mother, Kimberly Hawkins, adopted him seven months before his 18th birthday.
"If it wasn't for Kimberly, I wouldn't have made it. The way she raised him is admirable," Zion speaks warmly of the woman.
Clark never met his biological father, but he did meet his biological mother. Their first meeting went badly.
"I didn't know what to say. She said: "I missed you. I was looking for you. Even though I was on ESPN, she had been looking for a long time. When she said 'many years of searching', it really hit me," the athlete said.
As a child, Zion was bullied because of his height. The bullying hurt him, but instead of feeling depressed, he channeled his anger into sports.
He started wrestling in second grade, but he wasn't very good at it. He didn't know how to fight other kids, and other kids didn't know how to fight him. Gradually, he improved his technique and became a real force in the ring.
Zion has been living with his common-law wife, 25-year-old model and content creator Tatey, for over a year.
Only verified information in our Telegram channel Obozrevatel and in Viber.Do not be fooled by fakes!