Trending:
A cup can change the taste of tea: how to choose the right one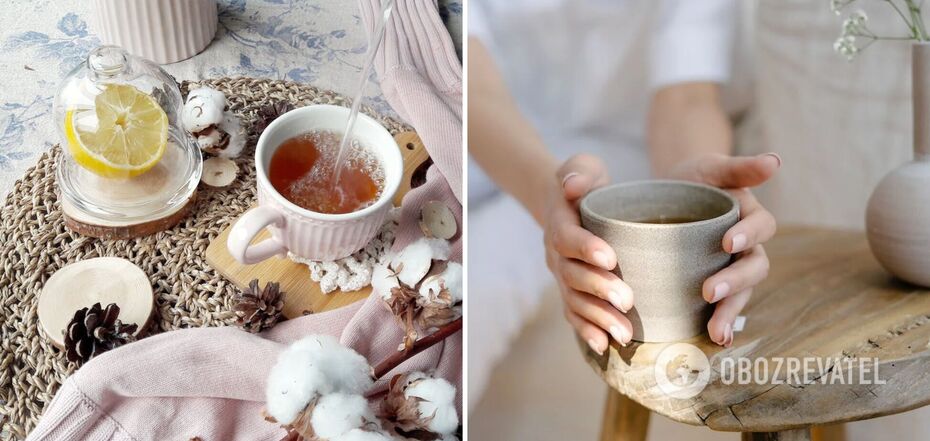 How the cup can change the taste of tea
Tea is one of the most popular drinks in the world. But its taste depends not only on the set of herbs and the correct preparation, but also on the cup you drink it from.
To make the drink flavorful and tasty, you should pay attention not only to the water temperature and brewing time. Scientific Reports has published a study by scientists on the effect of ceramics on taste.
Scientists from the Nagoya Institute of Technology in Japan have discovered that the glaze on ceramic tea sets plays an important role in the preparation of tea.
Glaze is a thin layer of glassy material that covers ceramics. It gives the tableware its strength, water resistance, and color.
Scientists have conducted research and found that glaze on tea sets reduces the amount of catechins in tea (antioxidants produced by plants) by oxidizing them. This changes the taste, flavor, and benefits of the drink.
The researchers brewed green tea at 80°C. The tea leaves were separated, and the resulting solution was mixed with glaze powder, which was applied to ceramic dishes.
The mixture was then left for six hours to react. Using a filtration method, the scientists removed the powder from the solution and the result surprised them.
Initially, the tea was transparent and had a bright yellow color, but after six hours of infusion with glaze powder, it turned dark brown. That is, green tea brewed in ceramic dishes turned into black tea.
During the reaction, the chemical compounds in the glaze promote the oxidation of catechin molecules, which leads to the formation of harmful substances for human health. This will not have a major impact on your health if you do not drink a drink from a ceramic cup every day for a long time.
Earlier, OBOZREVATEL published a simple way to check tea for quality and naturalness.
Subscribe to OBOZREVATEL 's Telegram and Viber channels to keep up with the latest developments.