Trending:
A beach in Australia covered with mysterious alien-like creatures. Photo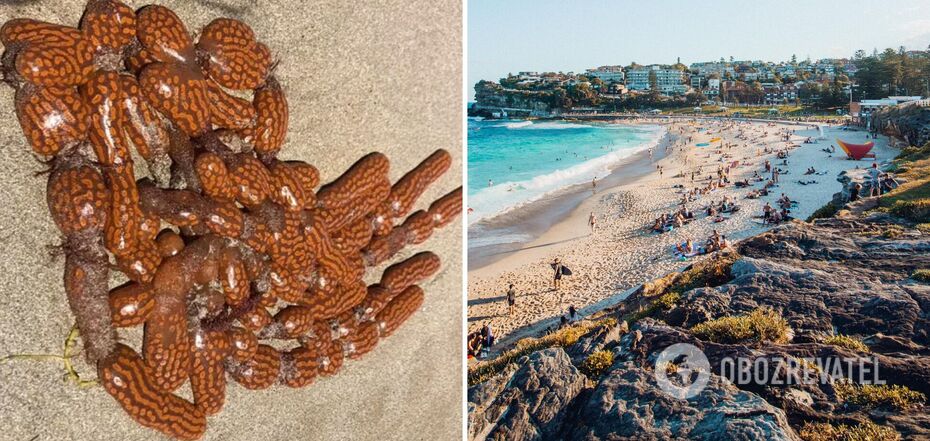 The locals could not understand the origin of the creatures
Visitors to a beach in Semaphore, Australia, were forced to search the Internet for answers after a bunch of mysterious sea creatures washed up on the sand. Many people assumed that the strange creature covered in yellow spots looked like an "alien".
The first mention of the marine animal appeared on Reddit. One user posted a photo of an unknown creature and added the caption, "Found in Semaphore today, can anyone identify it, please?" The jelly-like figure appears to be curled up, having shiny and slimy skin.
One user, a marine ecologist, said the strange creature belongs to a "type of ascidian" that is often found in coastal areas. "Each of these little yellow dots is a different animal called a zooid, all genetically identical in the colony," he wrote.
The creature is a mixture of vertebrates and invertebrates, the expert explained, "Although they are marine invertebrates, they are of the 'Chordata' type and are the evolutionary boundary between invertebrates and vertebrates." "In terms of evolution, they're your very distant, weird relatives that nobody wants to invite to Christmas dinner," he added. The creature has a slimy and "fleshy" appearance, but it is not as "soft" as a jellyfish.
Users were quick to comment on the post, writing that the animal has features similar to an extraterrestrial being.
"Alien placenta," one user said.
"I thought it was a coiled snake," another said.
According to the Australian Museum, the creature's scientific name is Botrylloides leachii, Daily Mail reports. It is a species that belongs to a group called Chordata, which includes animals such as fish, reptiles and birds. The dark ascidians, which are the most common forms of the species, are found in coastal waters at a depth of 25 meters, as well as in seaweed and shallow water. According to a marine ecologist who commented on the Reddit post, ascidians are not harmful to humans.
Earlier, OBOZREVATEL wrote about a new tourist resort being built in Egypt.
Only verified information is available on Obozrevatel Telegram and Viber. Do not fall for fakes!