Trending:
A+ assignment: how to clean a white sofa to like-new condition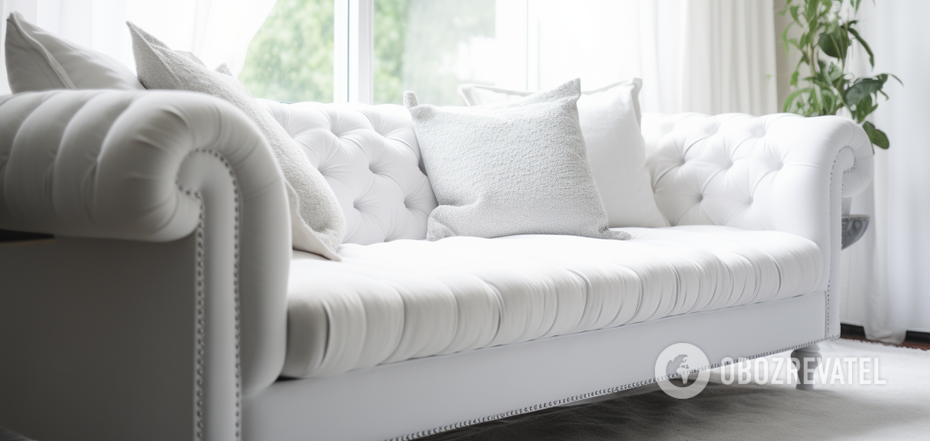 How to clean a white sofa
White sofas are a stylish and versatile solution. They never go out of fashion and suit any style of interior. The only disadvantage is impracticality. White fabric or leather upholstery gets dirty too quickly. It takes a lot of effort to clean the furniture.
Cleaning experts have revealed the easiest and most effective cleaning tricks for saving a white sofa. The details were reported by First For Women.
How to remove fresh liquid stains
Before treating a white sofa with any stain remover, test it on a small, inconspicuous area to make sure it won't cause the upholstery to yellow.
If you spill liquid on your sofa, immediately use a clean, dry cloth or paper towel to absorb as much moisture as possible. Blot the stain carefully, as friction will encourage the liquid to penetrate the fibers even more.
Matthew Morris, founder of Go Cleaners London, advises preparing a cleaning solution using simple ingredients. Mix water and detergent, soak a clean cloth in the solution and gently blot the stain, moving from the outer edges to the center. Rinse the cloth and repeat the procedure until the stain is gone.
You can try oxygen bleach as well. It is best to use on the covers.
Salt will help from wine stains. Dilute 4 tablespoons of salt in 1 liter of hot water, dip a sponge in the liquid and gently rub the stains.
If you accidentally spilled coffee on a white sofa, immediately moisten a clean cloth with 3% hydrogen peroxide and wipe the spot. The peroxide will release oxygen, loosening the bond between pigments and fibers, making it clean quickly.
How to remove dry stains
Dry stains on a white sofa require a slightly different approach.
"First of all, use a soft brush or spoon and gently scrape away any dried-on residue. Be careful not to scratch the fabric," Morris advises.
The expert then recommends treating the surfaces with a 1:1 solution of water and white vinegar.
Cornstarch can help with oil stains and greasy food residue. Sprinkle cornstarch on the stain, leave it for about 30 minutes and remove the residue. Cornstarch is also able to absorb odors.
Earlier OBOZREVATEL shared how to clean a velvet sofa.
Subscribe to OBOZREVATEL's channels in Telegram, Viber and Threads to keep up to date.