Trending:
10 ways to ruin your vacation: these mistakes every tourist has made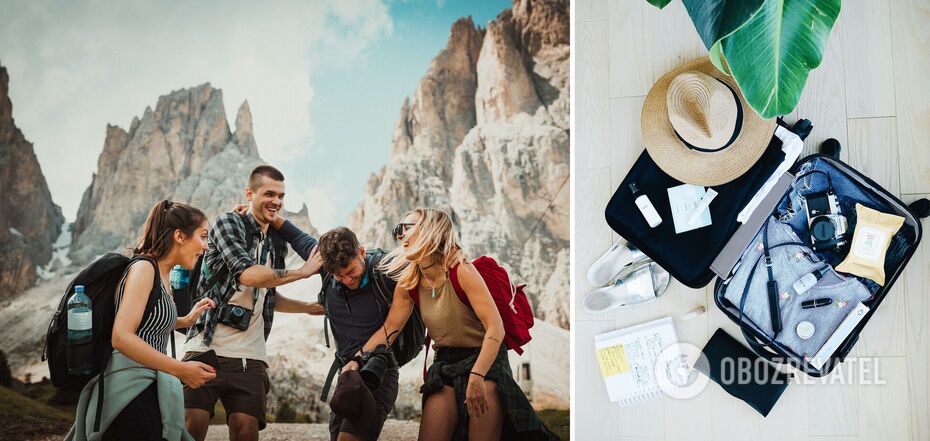 What can spoil a vacation
Vacation is a time for fun and relaxation. But we often spoil the whole trip ourselves by inadvertently making fatal mistakes. Let's talk about them.
Lack of a plan is not always a good thing
Of course, sometimes we want to add a dash of spontaneity to our lives. However, this has nothing to do with vacations. Poor planning can completely ruin the impression of even the best resort in the world.
There can be many mistakes, such as not studying the weather, not understanding the local traditions and culture, not booking enough vacation time between destinations, not looking at train schedules....
All this will lead to stress and lack of time the whole trip. In such a state, it is simply impossible to enjoy your vacation.
Overloaded schedule
The other extreme, which also spoils the travel experience. Creating a schedule that is filled with activities and excursions from morning to night seems like a good thing, but it can lead to exhaustion. Don't forget the need for rest and relaxation, because a vacation should also be about recuperation, not just cultural and emotional enrichment.
Try to find a balance. As an option: in the morning, while it is still not very hot, visit excursions, in the afternoon give yourself time to lie in the room or walk in the park, and in the evening plan activities. And don't forget to get a good night's sleep.
Constant communication with work
Constantly checking emails, answering work calls and messages can take away from your ability to enjoy your vacation. Try changing your device settings or ask a colleague to take over your responsibilities for the duration of your trip.
We understand that this is a very hard thing to do. You will have to make an effort on yourself and let go of control. But it's necessary so that you can fully recover and get back to business with renewed vigor.
Disregard for your own health
Improper nutrition, poor hygiene and lack of sleep can cause your physical condition to deteriorate. Be attentive to yourself during your vacation and try to lead a healthy lifestyle.
To do this, you need to introduce a few simple rules that will make life easier while traveling. Firstly, we advise you to eat at approximately the same time and do not indulge in fast food. Secondly, take with you sanitary napkins and dry showers. These things will come in handy during long drives or camping trips. And don't forget that the vacation will be over, and you still have to live in your body later.
Excessive alcohol consumption
Sometimes we perceive traveling as a time to completely disconnect from all problems and responsibilities. But still, you should not go to extremes. Alcohol abuse will definitely ruin your vacation. Excessive consumption of such drinks can lead to loss of control, deterioration of mood and negative impact on your health.
Disputes
If you are traveling with other people, conflicts can spoil the atmosphere and mood. Be tolerant, try to find compromises and observe mutual courtesy.
In order to reduce the risks of conflicts, before you start traveling, set certain rules that will be comfortable for everyone. For example, try to decide how you will move, eat, where you are going to live, who is responsible for what, what you will do in possible emergencies. All of this will form a routine and help to maintain friendly relations in the company.
Financial misunderstandings
An insufficient budget or spending more than you can afford can lead to stress and dissatisfaction. Before you leave, carefully calculate your finances and make a spending plan.
If you are traveling with someone, discuss how much money you plan to take with you. This way you won't feel uncomfortable about someone encouraging you to spend more than you wanted to.
Unkempt treatment of the place of stay
Ignoring hotel rules or inappropriate behavior in the rental property may lead to conflicts with staff and undesirable situations. Be courteous and respect the rules and property of others.
The same applies to petty theft from hotels. If still hygiene products will not be counted, the disappearance of a robe, towels or appliances will definitely be noticed and you will be asked to show your suitcase. Why should you go through this stress and shame. It is better to leave everything in its place.
Unsuccessful excursions and tours
By choosing unpopular or low-quality excursions, you risk spending money on an unsatisfactory experience. You can anticipate this by reading reviews and recommendations of other tourists.
But it also happens that the rating of the travel agency is quite high, but in fact it simply deceives customers. In this case, you must fix all violations of the contract and demand compensation for losses. Of course, this will not improve your vacation, but at least you will get your money back.
A misplaced goal
The main purpose of a vacation is to enjoy and relax. Do not forget about this and try to focus on the pleasant moments and positive emotions offered to you by your vacation. Of course, while traveling you may encounter minor problems, conflicts and misunderstandings, but this is no reason to dwell on the negative and get discouraged. Your emotions are your area of responsibility.
Remember that you are going on a trip to rest and enjoy relaxation.
Earlier OBOZREVATEL told how to prepare for a long bus tour.
Only verified information from us in Telegram-channel Obozrevatel and in Viber. Do not fall for fakes!