Trending:
What is khashlama and how to cook a hearty and tasty dish: we share an original recipe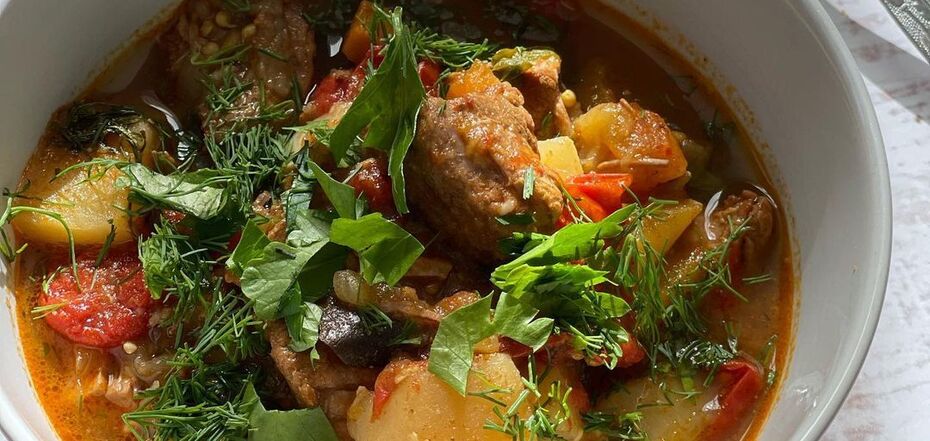 Recipe for the dish. Source: cook_with_me_at_home
Khashlama is a dish of Armenian and Georgian cuisine, which is made with beef, fatty lamb, veal and other meat, vegetables, and stewed almost in its own juice, with a small amount of liquid, spices and garlic.
On Instagram, cook Yulia shared a recipe for a delicious and satisfying dish of pork and vegetables, with spices and garlic - khashlama.
Tip: the dish is not stirred during cooking!
Ingredients:
pork (meat ribs or tenderloin, you can use both) - 1.5 kg
oil for frying
potatoes - 6-7 pcs
eggplants - 2 pcs
sweet pepper - 3 pcs
tomatoes - 5-6 pcs
carrots - 1-2 pcs
onions - 2 pcs
garlic - 5-6 cloves
water - 500 ml
spices: salt, pepper, favorite - to taste
Method of preparation:
1. Cut the meat into large pieces. Heat a frying pan with a little oil. Put the meat, sprinkle with spices and fry the meat until golden brown over high heat. Turn off and set aside.
2. Salt the meat, put a layer of onion, cut into coarse half rings, on top. Next, a layer of carrots and garlic, also cut into large pieces, then a layer of chopped potatoes, salt and pepper. Then a layer of coarsely chopped peppers, eggplant, salt and pepper. A layer of cherry tomatoes, or you can cut into 4 regular tomatoes. Pour in the water, cover and bring to a boil, then simmer for 2 hours.
3. Add grated garlic, mix gently, remove from heat and let stand for 10 minutes.
Serve with finely chopped herbs!
Also on OBOZREVATEL you can find recipes for