Trending:
Tasty and healthy pasta chips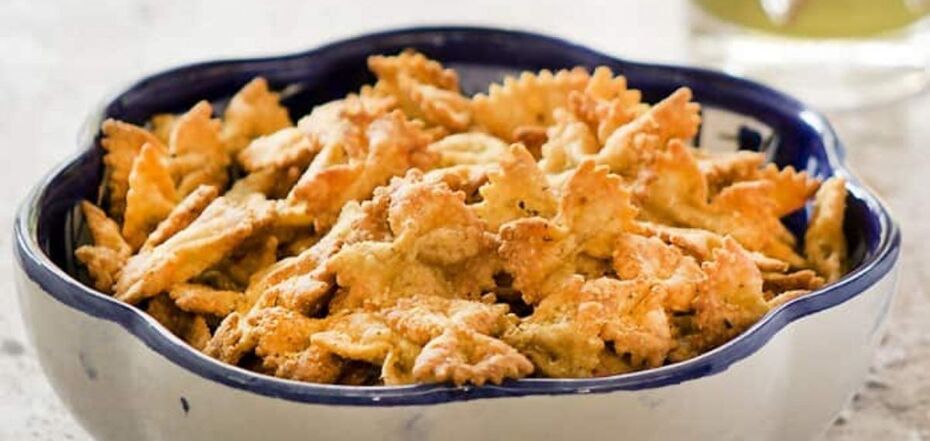 Chips recipe. Source: food.pibig
If you like chips, you must know that they are quite harmful, especially if consumed regularly. Homemade chips are less harmful, but they also should not be consumed regularly, as a lot of vegetable oil is used. It is worth noting that homemade chips can be made from pita, yams, potatoes, as well as pasta. Fruit chips from apples or oranges are also tasty.
Cook Anna shared on Instagram a recipe for pasta chips with spices and a delicious sauce.
Ingredients:
farfalle - 200 g
flour - 1 tbsp.
starch - 1 tbsp.
spices: 1/2 tsp. salt, 1-2 tsp. paprika, 1/2 tsp. dried garlic, 1 tsp. Italian herbs.
frying oil - 200-300 ml
Sauce:
sour cream - 3-4 tbsp.
dill - 2 tsp.
garlic - 1 clove.
salt - 1/3 tsp.
paprika - 1/2 tsp.
French mustard - 1 tsp.
Method of preparation:
1. Boil pasta until tender and rinse under cold water to stop the cooking process.
2. Drain, cool, add starch and flour and mix.
3. Heat the oil in a deep pan, put pasta and fry until golden.
4. Combine the fried pasta with the spices and mix well, adding more spices if necessary.
5. Combine all ingredients for the sauce. Serve the chips with it!
Also on OBOZREVATEL you can read the recipes: