Trending:
Sweet and sour chicken with vegetables for dinner: a recipe for a budget dish for the whole family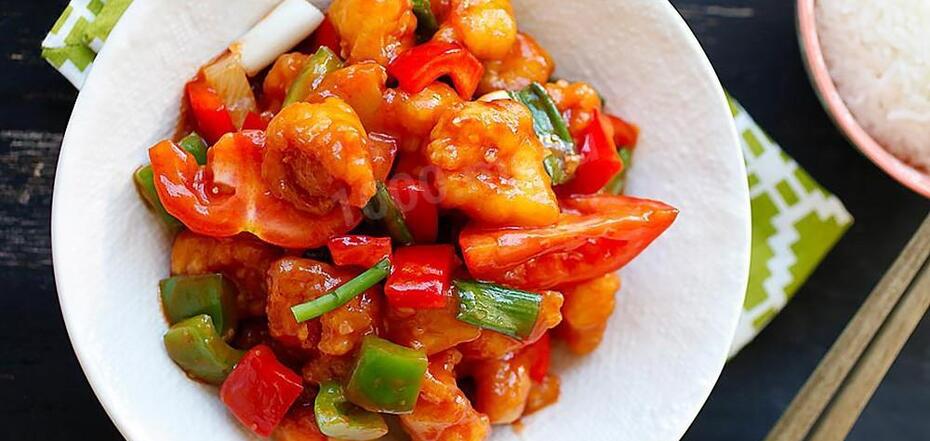 Recipe . Source: 1000.menu
Chicken fillet is a versatile product that can be an ideal base for making cutlets and chops, It can also be added to salads, as well as stewed with vegetables and various sauces.
Cook Anastasia shared a recipe for chicken fillet with vegetables in a sweet and sour sauce on Instagram.
Ingredients:
fillet - 1 pc.
corn starch - 1 tbsp.
carrots - 2 pcs.
asparagus - 100 g
garlic - 1 clove.
fresh ginger - 15 g
canned pineapples - 100 g
pineapple syrup - 100 ml
soy sauce - 2 tbsp
apple cider vinegar - 1 tbsp
tomatoes in their own juice - 200 ml or 70 g of tomato paste
oil for frying
sugar - 1 tbsp
salt to taste
Method of preparation:
1. Cut the fillet into strips or small pieces, season with salt, and roll in 1 tbsp of starch. Then fry in a well-heated frying pan with vegetable oil until golden brown for about 8 minutes. Place the meat on paper to remove excess fat.
2. Cut carrots into strips and fry over high heat for 1 minute. Add asparagus, and fry for another 1 minute. Add diced pineapples, grated ginger and finely chopped garlic. Fry for another 1 minute.
3. Add tomatoes and starch. You can also add pasta, pineapple syrup, vinegar, soy sauce and sugar. Stew for 2 minutes. Add meat and stew together for another 2-3 minutes.